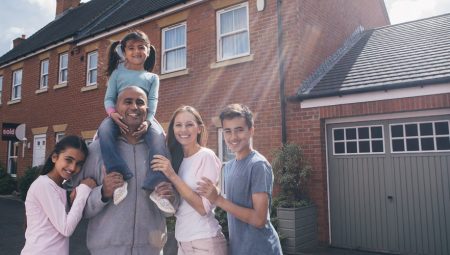 This month, our Study Spotlight will focus on two of our CLOSER partner studies that each have distinctive study designs. First up, we showcase Understanding Society – the largest longitudinal household panel study of its kind.
About the study
In 2009, Understanding Society: The UK Household Longitudinal Study was launched, building on and incorporating the long-running British Household Panel Survey (BHPS). Funded by the Economic and Social Research Council (ESRC), and with support from several government departments, the study provides vital evidence for scientists and policymakers on the causes and consequences of deep-rooted social problems.
The study covers everyone in a household, from children to adults, so researchers can understand the experiences of the whole family over time. Study participants are followed when they leave a household, and new people join the study as they become part of existing sample member households.
Covering all regions and nations of the UK, the study follows over 30,000 households and has boost samples to ensure representativeness of immigrant and ethnic minority groups. Its annual data collection means that changes in people's lives can be accurately captured over time compared to many other studies.
Understanding Society provides information on a range of topics, including home and family, work and school, health and wellbeing, money and poverty, and the social and political attitudes of its participants. This enables researchers to better understand how society is changing by looking at people's opinions, feelings, and actions and investigate how changes in economic, social and health events affect individuals, households and communities.
Evidence from the study is extensively used by government departments, devolved administrations, university researchers, charities and think tanks.
Recent research using the study data has explored:
Find out more about Understanding Society from the webinar by Prof Michaela Benzeval in our introduction to Understanding Society: The UK Household Longitudinal Study video.
Discover the data
With three decades of follow-up surveys (and still ongoing!), the study has collected a wealth of information on a range of topics, including child development, health behaviours, education, immigration, COVID-19, and physical and mental health.
Using CLOSER Discovery – our innovative research tool – you can search, explore and assess data from Understanding Society in an unprecedented level of detail. A filtered search, looking solely at Understanding Society, pulls up detailed information about 35,696 variables and 4,116 questions from 118 datasets. Users can search through rich metadata, and filter by study, topic and life stage in order to find the relevant data for their investigations.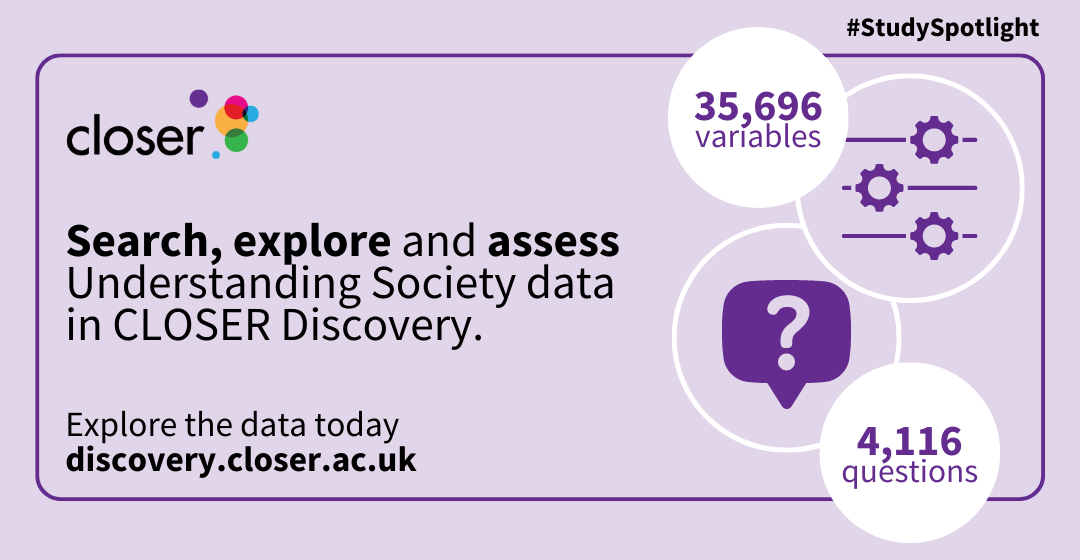 Start exploring Understanding Society variable metadata in CLOSER Discovery
Understanding Society survey data can also be accessed by bona fide researchers through the UK Data Service. Most researchers can download the data they need directly simply by agreeing to the terms and conditions of the UK Data Service End User Licence. For variables with a higher disclosure risk, researchers may need to apply for access via a Special Licence or access the data via the UK Data Service SecureLab. Epigenetic and genetics data are available from the European Genome-phenome Archive (EGA). Researchers wishing to combine genetics and survey data need to apply directly to Understanding Society.
Response to the COVID-19 pandemic
From April 2020 to September 2021, Understanding Society participants aged 16 years and over were asked to complete a short monthly web survey. This survey covered the changing impact of the pandemic on the welfare of UK individuals, families and wider communities. Young people aged 10-15 were also asked to contribute to the COVID-19 study via short questionnaires in July 2020 and March 2021, with a longer survey in November 2020
Metadata from all the Understanding Society COVID-19 questions is available to explore in CLOSER Discovery.
Interested in finding out more? You can use our COVID-19 Research Tracker to access all the briefing notes, reports, academic publications and articles that have cited Understanding Society COVID-19 data.
Some of the research on COVID-19 investigates the extent to which the pandemic had an impact on financial and mental well-being, and evaluates government policies that tried to alleviate the adverse impacts of COVID-19
Opportunities for cross-study investigations
Detailed information about Understanding Society data features in two of CLOSER's cross-study data guides, providing an opportunity for researchers to explore the measures used to assess diverse aspects of physical activity and diet.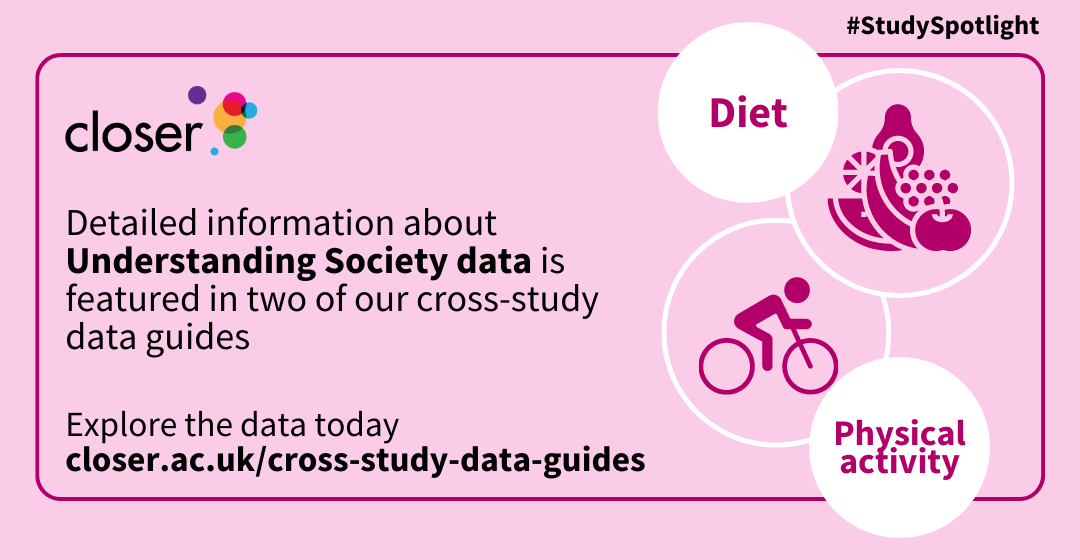 Understanding Society enables exploration of measures on leisure time, domestic activities, sedentary behaviour, type of exercise and method of travel to work or school. The data is available to explore in CLOSER's cross-study data guide of physical activity measures to make comparisons between children (under 10 years old), young people (ages 10-15), adults (16+ years) and other longitudinal population studies included in the guide.
CLOSER's cross-study data guide of dietary measures defines and summarises dietary assessment tools used across eight studies, including Understanding Society. It covers all life stages (pre- and during pregnancy, infancy, childhood, adolescence, adulthood, older age) and describes an example of harmonising dietary data.
Scratching the surface
Over the years, Understanding Society has provided valuable insights into the challenges and experiences of households and families from all four corners of the UK. This spotlight is only the tip of the iceberg when it comes to using the study data and how you can utilise the study for your own research journey. As the study continues, we look forward to adding future data collections to CLOSER Discovery and working together in the CLOSER partnership.
You can keep up to date with all the latest developments on Understanding Society and the longitudinal research community, sent direct to your inbox, via our monthly newsletter, Longitudinal News.
Further information
This blog is part of our 'Study Spotlight' series. This series showcases the CLOSER partner studies, demonstrating how to make the most of these valuable assets through CLOSER's research resources. Every month, we turn the spotlight on a new theme, producing a series of blogs that delve into the backgrounds of studies that share similar characteristics, such as their study sample, design, or topics of research interest.    
'Study Spotlight' helps you gain a deeper understanding of the studies in our partnership and how you can better utilise these on your research journey.    
Keep an eye out for the next instalment when we shine the spotlight on the ONS Longitudinal Study.
Previous Study Spotlight blogs:   
On Twitter? Follow #StudySpotlight to keep up to date with the series throughout the year. 
Related links:
---
Suggested citation:
Mona, H. (2023). 'Study Spotlight – Understanding Society: panel and census studies. CLOSER. 10 July 2023. Available at: https://closer.ac.uk/news-opinion/blog/study-spotlight-understanding-society