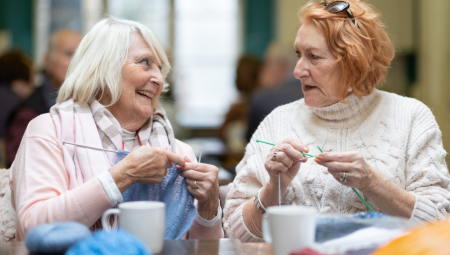 The focus of our Study Spotlight now turns to the UK's ageing population in this third blog of the series. First up, we delve into the English Longitudinal Study of Ageing (ELSA) which celebrates its 20th birthday this week (11 May 2023) with a special anniversary conference.  
About the study
Established in 2002, the English Longitudinal Study of Ageing (ELSA) tracks the dynamics of ageing by following the lives of over 12,000 men and women aged 50+ and living in England. 
The original sample was drawn from households that had previously responded to the Health Survey for England (HSE), a survey which is also used to refresh the ELSA sample periodically to ensure that it remains representative. Participants are surveyed every two years, with longitudinal data spanning nine waves of data collection currently available for researchers to access via the UK Data Service.  
ELSA data has been used to produce over 1000 publications over its 20-year history, including policy reports, academic articles and conference presentations. It is a vital source of data informing a range of policy issues, from the formation of pension policy, estimation of social care needs and costs, as well as the benefits of continuing the Freedom Pass scheme. 
Recently, the study data has been used in longitudinal research examining the role loneliness plays in the development of depressive symptoms among those caring for partners with dementia, as well as acknowledged and unacknowledged hearing loss in older adults. ELSA data was also cited in a recent report by the Centre for Ageing Better on the 'baby boomer' generation and their prospects for later life. 
You can find out more information about the study from Prof Paola Zaninotto in our introduction to ELSA video. 
Discover the data
With 9 waves of data collections so far, ELSA has captured a wealth of information about older people's lives and experiences, including demographics, work and pensions, cognitive function, physical health, mental health, and wellbeing. The study has also collected biomedical measures such as physical function and blood samples.  
You can find out more information about the data available on the ELSA website and download data from Waves 1-9 via the UK Data Service.  
If you're particularly interested in using mental health data from ELSA for your research, detailed information on the measures used in the study are available via the Catalogue of Mental Health Measures. Funded as part of a CLOSER project on documenting mental health measures, the catalogue provides information about thousands of standard and non-standard measures of mental health and wellbeing collected in over 50 UK cohort and longitudinal population studies. 
Response to the COVID-19 pandemic
During the early stages of the COVID-19 pandemic, ELSA launched a sub-study to assess how the crisis was impacting the older population of England. Two waves of data collection explored changes in participants' financial circumstances, work and caregiving, mental and physical health, social contact and loneliness, health and social care, and their stress and worries during the pandemic.  
The ELSA sub-study has been cited in numerous research articles investigating the short- and long-term effects of the pandemic. For instance, recent research using the sub-study data found that 'older people in the poorest quintile of the population were more than twice as likely to feel isolated' during the first COVID-19 lockdown compared to the richest quintile.  
Want to find out more? You can use our COVID-19 Research Tracker to access all the briefing notes, reports, academic publications and articles that cite ELSA COVID-19 data.   
Scratching the surface
Celebrating the study's 20th anniversary, and with the 10th wave of data collection due to be deposited soon, this year is undoubtedly a very exciting time for ELSA.  We're looking forward to continuing to help raise ELSA's profile to ensure that its invaluable insights into the experiences of older adults in England continue to be utilised for informing research and policy. 
You can keep up to date with all the latest developments on ELSA and the longitudinal research community, sent direct to your inbox, via our monthly newsletter, Longitudinal News.   
Further information
This blog is part of our 'Study Spotlight' series. This series showcases the CLOSER partner studies, demonstrating how to make the most of these valuable assets through CLOSER's research resources. Every month, we turn the spotlight on a new theme, producing a series of blogs that delve into the backgrounds of studies that share similar characteristics, such as their study sample, design, or topics of research interest.   
'Study Spotlight' helps you gain a deeper understanding of the studies in our partnership and how you can better utilise these on your research journey.   
Keep an eye out for the next instalment when we take a look at the Hertfordshire Cohort Study and the UK's ageing population later this month. 
Previous Study Spotlight blogs:  
On Twitter? Follow #StudySpotlight to keep up to date with the series throughout the year.
Related links:
---
Suggested citation:
Blows, J. (2023). 'Study Spotlight: ELSA and the ageing population'. CLOSER. 1o May 2023. Available at: https://closer.ac.uk/news-opinion/blog/study-spotlight-elsa/