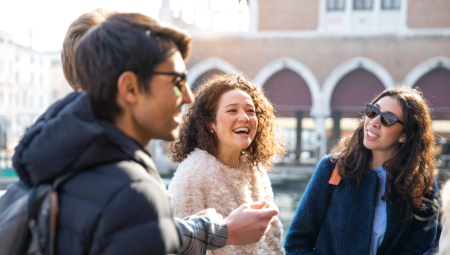 Our new 'Study Spotlight' series showcases our partner studies and how to make the most of these world-class scientific assets through CLOSER's research resources. Each month, we're turning the spotlight on a new theme and delving into the backgrounds of studies that share similar characteristics, such as their study sample, design, or topics of research interest.   
'Study Spotlight' will illustrate how we can help you gain a deeper understanding of the longitudinal population studies in our partnership and utilise these on your research journey. 
First up we're shining the light on our partner studies following the millennial generation, starting with the Avon Longitudinal Study of Parents and Children (ALSPAC). 
About the study
Funded by the Medical Research Council (MRC), the Avon Longitudinal Study of Parents and Children is a world-leading longitudinal birth cohort study based in the Bristol area of the UK. Since 1992, it has followed the health and development of 14,500 women, their partners, and their children. 
ALSPAC is one of the most detailed studies of its kind in the world, providing a rich resource for understanding the environmental, biological and genetic factors that affect health and development. Over its 30-year history, the study data has been used in thousands of published research papers. Most recently, the study has been used in research investigating the link between smoking cigarettes and school performance depression in women during pregnancy and whether parents should be worried about picky eating. 
Find out more from the study's director, Prof Nic Timpson, in our detailed introduction to ALSPAC video. 
Discover the data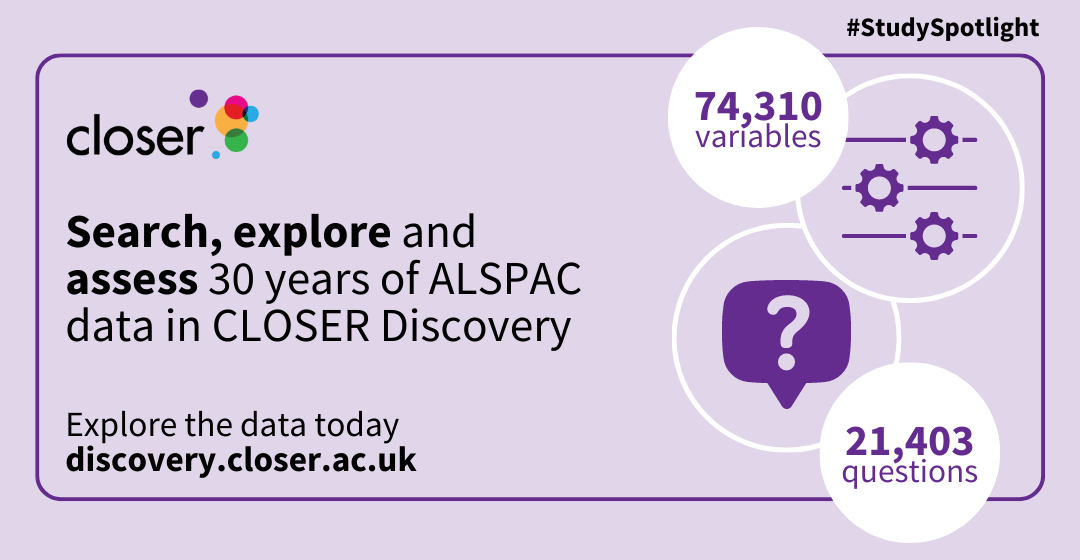 With data about mothers, fathers, their children and even grandchildren in some cases, ALSPAC has collected a vast amount of information over the past 30 years. But where can you find exactly what the data is and understand whether it could be used for your next research project? Two words: CLOSER Discovery. 
CLOSER Discovery is our innovative research tool that enables you to search, explore and assess ALSPAC study data in an unprecedented level of detail. By filtering your searches to look solely at ALSPAC metadata, you'll find detailed information about 19,635 questions and 74,310 variables from the study. This metadata covers a whole range of research topics including mental and physical health, housing and local environment, family, education, employment and income, pregnancy and more! 
Response to the COVID-19 pandemic
CLOSER Discovery also includes metadata from three COVID-19 surveys conducted by ALSPAC during the early stages of the pandemic to track short-term symptoms and longer-term impacts of the pandemic on study participants' lives.  
This data from ALSPAC's COVID-19 surveys has proven invaluable for researchers investigating the disease and its effect on millennials and their families. Research using data from ALSPAC and Generation Scotland found that COVID-19 is linked to an increase in adverse mental health among women, individuals with pre-existing health conditions, and those experiencing socio-economic adversity.   
This research was also featured in a new research case study on the effect of the COVID-19 pandemic on mental health, which is available on the CLOSER Learning Hub (our online resource introducing beginners to the basics of longitudinal research).   
Interested in finding out more? You can use our COVID-19 Research Tracker to access all of the briefing notes, reports, academic publications and articles that cite ALSPAC COVID-19 data. 
Opportunities for cross-study comparisons
The research on COVID-19 and mental health is a great example of how ALSPAC data can be used in cross-study research with other studies. Cross-study analysis helps us understand more about group differences, the role of contextual factors and even how societal changes may impact on outcomes for individuals.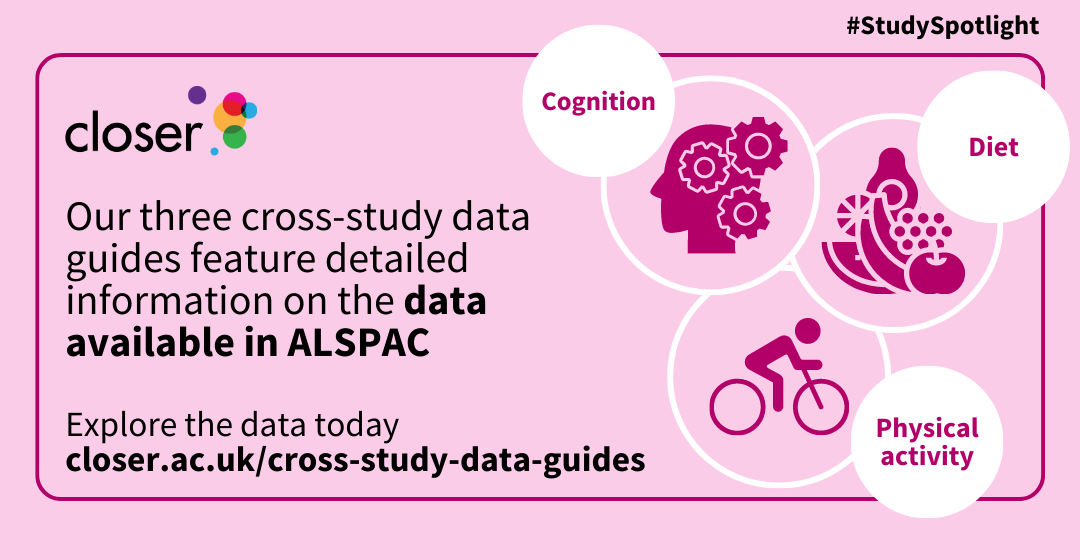 As part of our data harmonisation work, we've produced a series of easily searchable cross-study data guides to help researchers explore diet, physical activity, and cognitive measures within and across multiple longitudinal studies. Our cross-study data guides feature detailed information about the data available in ALSPAC in these research areas. 
ALSPAC data also features in two of our harmonised datasets to help researchers carry out their own cross-study investigations. The first dataset contains harmonised measures of pre-adolescent characteristics collected at age 10/11 in ALSPAC and four national birth cohort studies.  
The second harmonised dataset contains measures of body size and composition, including height, weight, and body mass index (BMI) across ALSPAC and four national birth cohort studies. Longitudinal research on the rise of the obesity pandemic, which used this dataset, found evidence to suggest children born since 1990 are up to three times more likely than older generations to be overweight or obese by the age of 10.   
Scratching the surface
This spotlight is only the tip of the iceberg when it comes to using ALSPAC and how you can utilise the study for your own research journey. As ALSPAC continues, future data collections will be added to Discovery, new COVID-19 research will be added to our tracker, and there will be more opportunities for cross-study comparative investigations. 
You can keep up to date with all the latest news and developments on ALSPAC and the longitudinal research community direct to your inbox, via our monthly newsletter, Longitudinal News.  
Further information
This blog is part of our Study Spotlight series. Keep an eye out for the next instalment focused on Next Steps and the millennial generation later this month.
On Twitter? Follow #StudySpotlight to keep up to date with the series throughout the year.
Related links
---
Suggested citation:
Blows, J. (2023). 'Study Spotlight: ALSPAC and the millennial generation'. CLOSER. 20 April 2023. Available at: https://www.closer.ac.uk/news-opinion/blog/study-spotlight-alspac