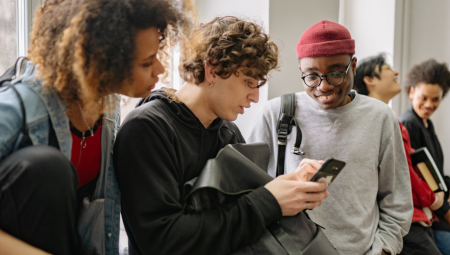 As we mark the third month of our Study Spotlight series, we turn our attention to the British birth cohorts managed by the UCL Centre for Longitudinal Studies (CLS).
First up, we shine the light on the youngest of the three – the Millennium Cohort Study – which marks its 21st anniversary later this week with a special scientific conference. 
About the study
The Millennium Cohort Study (MCS) follows the lives of around 19,000 young people born across England, Scotland, Wales and Northern Ireland in 2000-02. When it began at the turn of the new century, the MCS joined a renowned series of national birth cohort studies tracking different generations born in 1946, 1958, and 1970.  
Interestingly though, the MCS took a different approach to sample design compared to its three predecessors. While the older cohorts all share the same birth week, participants in the MCS were all born over a 17-month period, allowing researchers to investigate how the season of birth may have an impact on participants' outcomes.  
Over the years, the MCS has provided valuable insights into the challenges and experiences of young people growing up in the 21st century. Recent research using the study data has investigated: 
To date, the study has collected participant data at ages 9 months, 3, 5, 7, 11, 14 and 17 years. The next participant survey, at age 23, will begin later this year with data is to be made available for researchers to access via the UK Data Service in 2025. Administrative data from health and education records has been linked to the survey data, making the study an even richer resource for a range of research topics. 
Find out more information about the MCS from Dr Morag Henderson and Dr Vanessa Moulton in our introduction to the CLS longitudinal cohort studies from a biomedical perspective video.  
Discover the data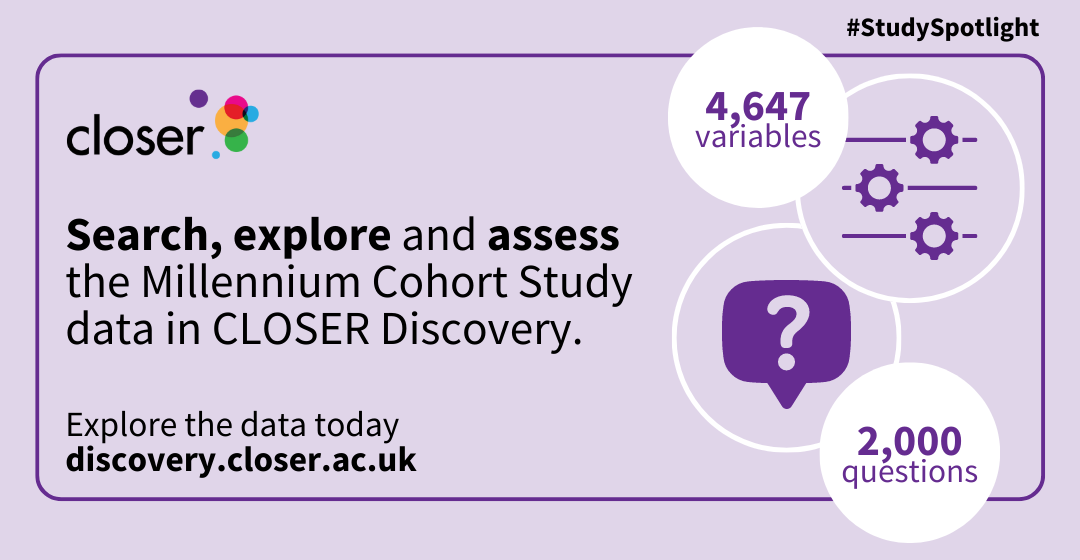 If you're interested in using data from the MCS to carry out your own research, you might be wondering where and how to find out exactly what data has already been collected. That's where our innovative research tool, CLOSER Discovery, can lend a hand.    
CLOSER Discovery enables you to search, explore and assess MCS study data in an unprecedented level of detail. When you filter your search to look solely at MCS metadata, you'll find a wealth of contextual information about 4,647 variables and 2,000 questions from the study. This metadata covers a diverse range of research topics including mental health, child development, education, housing and local environment, and more! 
Response to the COVID-19 pandemic
MCS is one of five national longitudinal population studies that worked together during the early stages of the pandemic to conduct bespoke COVID-19 surveys to help understand the impact of the pandemic on individuals, families and communities across the UK. Metadata for all three MCS COVID-19 surveys are currently available to explore in CLOSER Discovery.  
This COVID-19 data from the MCS has already proven invaluable for researchers exploring the impact of the pandemic on young people and their families. Cross-study research using MCS and four other longitudinal cohorts found that younger generations had worse levels of mental and social wellbeing during the first year of the pandemic. 
Interested in finding out more? You can use our COVID-19 Research Tracker to access all the briefing notes, reports, academic publications and articles that cite MCS COVID-19 data.  
Opportunities for cross-study comparisons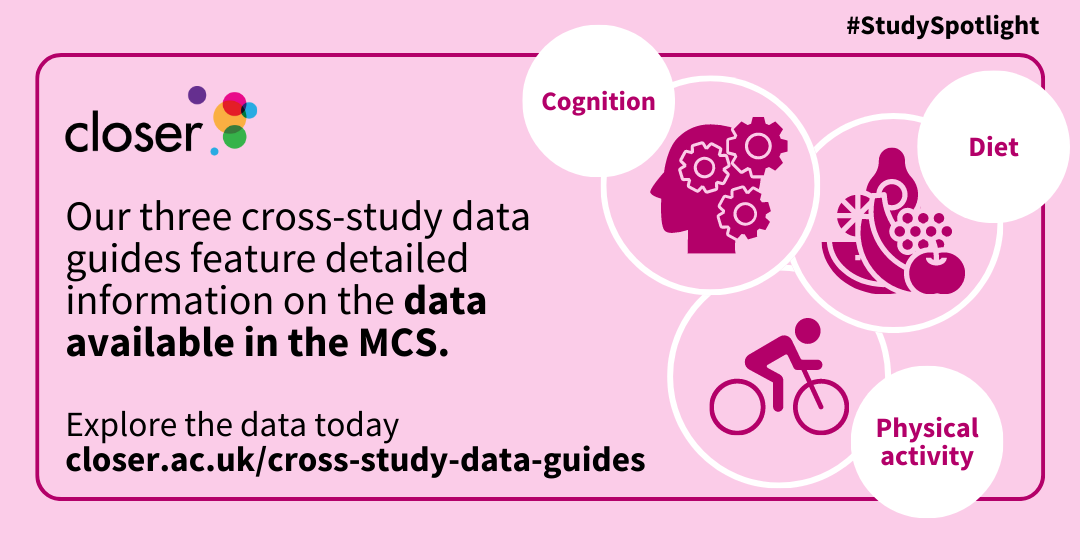 The research on COVID-19 and wellbeing mentioned above illustrates how you can use MCS data in cross-study investigations alongside other longitudinal population studies. Cross-study analysis helps us understand more about group differences, the role of contextual factors and even how societal changes may impact on outcomes for individuals.  
We've created two sets of resources to help enable researchers to carry out their own cross-study comparisons. Our series of three cross-study data guides allow you to explore measures of cognition, diet and physical activity collected across and within multiple longitudinal population studies. All three include detailed information about the measures collected in the Millennium Cohort Study. 
MCS data also features in three of our harmonised datasets designed to support cross-study comparisons. The datasets contain harmonised measures of the following themes, collected across five longitudinal population studies: 
If you're interested in finding out more about cross-study research and what kind of investigations are possible with longitudinal data from MCS, the CLOSER Learning Hub features detailed case studies of cross-study research on topics: explore our case study on the rise of the obesity epidemic and on cognitive achievement of children of immigrants.
Scratching the surface
This spotlight is only the tip of the iceberg when it comes to using the MCS and how you can utilise the study for your own research journey. Now that participants have reached their early 20s, the MCS continues to provide an important window into the lives and experiences of today's young generation. We look forward to seeing what's next on its horizon and continuing our work with the study.    
You can keep up to date with all the latest developments on MCS and the longitudinal research community, sent direct to your inbox, via our monthly newsletter, Longitudinal News.     
Further information
This blog is part of our 'Study Spotlight' series. This series showcases the CLOSER partner studies, demonstrating how to make the most of these valuable assets through CLOSER's research resources. Every month, we turn the spotlight on a new theme, producing a series of blogs that delve into the backgrounds of studies that share similar characteristics, such as their study sample, design, or topics of research interest.      
'Study Spotlight' helps you gain a deeper understanding of the studies in our partnership and how you can better utilise these on your research journey.     
Keep an eye out for the next instalment when we shine the spotlight on the 1970 British Cohort Study. 
Previous Study Spotlight blogs: 
On Twitter? Follow #StudySpotlight to keep up to date with the series throughout the year.  
Related links: 
---
Suggested citation:
Blows, J. (2023). 'Study Spotlight: MCS and the British birth cohorts'. CLOSER. 21 June 2023. Available at: https://closer.ac.uk/news-opinion/blog/study-spotlight-mcs/