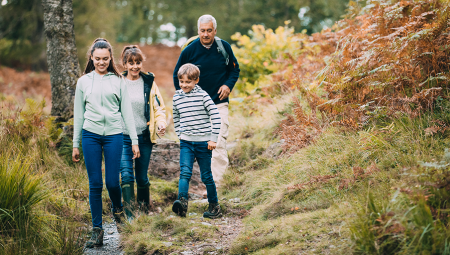 Following last month's Study Spotlight on Growing Up in Scotland, we head over the border once more to explore CLOSER's other Scottish partner study: Generation Scotland.  
About the study
Generation Scotland (GenScot) is a Scotland-wide family-based study following over 24,000 people from around 7,000 families from childhood to old age. A collaboration between Scottish university medical schools and NHS Scotland, the study's initial recruitment stage ran from 2006-2011. A new round of recruitment is currently underway to increase the size of the cohort to 40,000, including younger members from age 12 upwards.  
During Generation Scotland's initial recruitment, volunteers completed an extensive paper questionnaire of past medical history, general health, mental health, personality, mood and memory. They also gave broad consent to genetic studies, linkage to their medical records, and to be recontacted for future studies. The study was converted from cross-sectional to longitudinal through retrospective and prospective linkage to routine Scottish medical records. Volunteers have also been recontacted at various points to take part in further research studies or complete additional questionnaires.  
Evidence from Generation Scotland has been used to inform UK and Scottish Government policymaking on a range of issues, including the impact of COVID-19 on mental health. Generation Scotland is currently working with the Scottish Government to explore the benefits of health information recovered from blood spots taken from newborn babies, which NHS Scotland has been collecting since 1965 and could lead to national research using neo-natal blood spots.   
Recent research using the study data has investigated:  
Find out more information about the study from Professor David Porteous and Dr Chloe Fawns-Ritchie in our video introducing Generation Scotland from a social science perspective.
Discover the data
The Generation Scotland cohort is comprised of 24,000 adults, including 7,000 families, recruited between 2006-2011 through the Scottish research network of General Practitioners, now known as NRS Primary Care Network. Volunteers completed an extensive paper questionnaire covering general and mental health. Various anthropometric measures were also made at a research clinic, where samples of blood and urine were collected. Genotype array data is available for 83% of participants, and blood-based DNA methylation data for 78%. Proteomic and metabolomic analysis has been conducted in a subset of individuals.  
In May 2022 'Next Generation Scotland' was launched to expand the existing cohort with an additional 20,000 new participants, including young people aged 12-17. Participants complete online consent and questionnaires and provide postal saliva samples for DNA extraction. They consent to recontact for future studies as well as linkage to heath and administrative records. Completion of the new recruitment will create an overall cohort of over 40,000 individuals across Scotland with rich genetic and phenotypic data.  
If you're particularly interested in using mental health data from GenScot for your research, detailed information on the measures used in the study are available via the Catalogue of Mental Health Measures. Funded as part of a CLOSER project on documenting mental health measures, the catalogue provides information about thousands of standard and non-standard measures of mental health and wellbeing collected in over 55 UK cohort and longitudinal population studies.  
Response to the COVID-19 pandemic
During the COVID-19 pandemic, three new surveys – CovidLife, TeenCovidLife, and RuralCovidLife – were conducted to provide widespread insight into the impacts of the pandemic and lockdown measures on the general population, young people, and those living in rural areas.  
The COVID surveys began with CovidLife with a series of online surveys of the UK population aged from 18 years upwards. The initial survey had over 18,000 respondents with 5,000 already in the Generation Scotland cohort. TeenCovidLife took a similar approach, with 5,500 12- to 17-year-olds across Scotland responding to an online survey on their health and well-being. The final COVID survey is RuralCovidLife, where 3,000 Scottish rural volunteers over the age of 16 responded to questions designed to reveal how Covid-19 measures were affecting Scottish rural communities.   
Want to find out more? You can use our COVID-19 Research Tracker to access all the briefing notes, reports, academic publications and articles that cite GenScot COVID-19 data. 
Scratching the surface
Of course, this spotlight just provides a quick overview of Generation Scotland, its study background and insight into the data it has collected over the years. If you would like to access the data or have any questions, please do get in touch with the Generation Scotland team.  
You can keep up to date with all the latest developments on Generation Scotland and the longitudinal research community via our monthly newsletter, Longitudinal News.
Further information
This blog is part of our 'Study Spotlight' series. This series showcases the CLOSER partner studies, demonstrating how to make the most of these valuable assets through CLOSER's research resources. Every month, we turn the spotlight on a new theme, producing a series of blogs that delve into the backgrounds of studies that share similar characteristics, such as their study sample, design, or topics of research interest.      
'Study Spotlight' helps you gain a deeper understanding of the studies in our partnership and how you can better utilise these on your research journey.      
Keep an eye out next week as we showcase the Northern Ireland Cohort for the Longitudinal Study of Ageing (NICOLA).      
Previous Study Spotlight blogs:     
On Twitter? Follow #StudySpotlight to keep up to date with the series throughout the year.   
Related links: