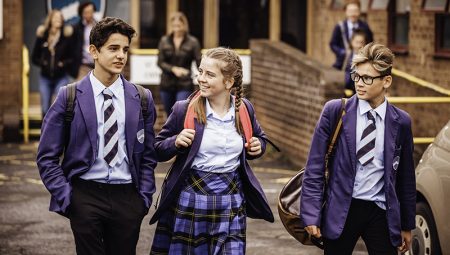 In the next episode of our Study Spotlight series, we're going 'back to school' and shining the light on two CLOSER partner studies following children and young people! 
For today's lesson, our Study Spotlight will showcase Growing Up in Scotland – the largest longitudinal population study of its kind in Scotland.   
About the study
Launched in 2005, Growing Up in Scotland (GUS) follows the lives of around 14,000 children and their families from the early years, through childhood and beyond. The study is commissioned by the Scottish Government and managed by the Scottish Centre for Social Research.  
GUS is an important resource for policymakers, practitioners, academics and the voluntary sector, providing evidence across a range of areas to support policymaking in Scotland. Findings from GUS have aided the development of Scottish Government policies on educational inequality, home learning activities, parenting and parental support, early learning and childcare and child health. Data and insights from the study have also informed the revision of national guidance for practitioners working with young children in Scotland. 
Most recently, data from the study has been used to investigate the following topics: 
Find out more information about the study from Paul Bradshaw, GUS Director, in our video introducing Growing Up in Scotland from a biomedical science perspective.  
Discover the data
GUS has collected an immense amount of data across 11 waves of data collection, covering a vast range of topic areas including child development, physical and mental health, family and home life, education and employment, and involvement in offending and risky behaviours. The study has also collected consent from parents to link their data (and the data collected on their children) to health and education administrative data.  
The age 14 (wave 10) data collection was interrupted by COVID-19 and subsequent national lockdowns. Once fieldwork resumed, the study included additional questions about participants' experiences of the pandemic which provided critical insights into inequalities in learning behaviours and experiences during lockdown. 
Fieldwork was recently completed for wave 11 when young people in the cohort were aged 17/18. Data from the preceding 10 waves are available for researchers to download from the UK Data Service. Researchers can find out more about accessing GUS data from the GUS website and use the GUS topic guide for more detailed information on measures collected at each wave. 
If you're particularly interested in using mental health data from GUS for your research, the Catalogue of Mental Health Measures provides on information about the measures used in the study. Funded as part of a  CLOSER project on documenting mental health measures, the catalogue provides information about thousands of standard and non-standard mental health and wellbeing measures collected in over 50 UK cohort and longitudinal population studies.  
Scratching the surface
Over the last 18 years, GUS has offered a highly valuable window into the lives and experiences of young people and their families living in Scotland. We're looking forward to seeing what comes next for the study and continuing the partnership between CLOSER and GUS!  
Further information
This blog is part of our 'Study Spotlight' series. This series showcases our partner studies, demonstrating how to make the most of these valuable scientific assets through CLOSER's resources. Every month, we turn the spotlight on a new theme with a series of blogs that delve into the backgrounds of studies that share similar characteristics, such as their study sample, design, or topics of research interest.     
Keep an eye out for our next Study Spotlight 'back to school' instalment on the Longitudinal Study of Young People in England 2.   
Previous Study Spotlight blogs: 
On Twitter? Follow #StudySpotlight to keep up to date with the series throughout the year.  
Related links: