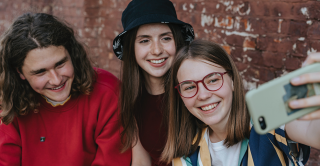 Growing Up in Scotland (GUS) was one of 11 new longitudinal studies to join the CLOSER consortium in 2020. Here, Line Knudsen, ScotCen Research Director introduces the study, their response to COVID-19, and looks ahead to the study's future.
Growing Up in Scotland (GUS) is a multi-cohort study, commissioned by the Scottish Government and carried out by ScotCen – the Scottish arm of the independent National Centre for Social Research (NatCen).
Since 2005, this longitudinal study has been working with children and their families across Scotland. In total, information has been collected from over 14,000 families across three nationally representative cohorts of children. One of these cohorts – Birth Cohort 1, initially comprised of 5217 children living in Scotland at age 10 months – remains active. To date, 10 sweeps of face-to-face data collection have been collected for this cohort covering the period from age 10 months (2005/06) to 14 years (2019/20).
The study is multidisciplinary in nature and provides high-quality longitudinal data on the lives of Scottish children, young people, and their families. Its focus covers a wide range of domains, including health, development and wellbeing, education, family and community, and offending and risky behaviours.
What's happened in the last year?
Like many comparable studies, the last year has seen us adapt our approach to reflect the realities of the COVID-19 pandemic. In spring 2020, we were just over three-quarters through the age 14 data collection sweep with Birth Cohort 1 when face-to-face interviewing was halted.
The age 14 survey comprised a number of elements, including an interviewer-led interview with the cohort member and with their main carer; self-completion elements (completed on the interviewer's laptop – CASI) for the cohort member and their main carer, measurements of the cohort member's height and weight, and cognitive assessments with the cohort member.
After face-to-face fieldwork was paused, the survey was repurposed into a concurrent web-and-telephone survey, with existing interviewer-led sections moved to telephone mode and self-completion sections redesigned into web instruments. This re-purposed survey went into field in late-July 2020 and included most questions asked in the face-to-face interviews.
The 'original' age 14 survey covered a range of topics including the young person's education, health, health behaviours, relationships with family and friends, and activities, as well as parents' health, activities, employment and income – all areas which have been of particular interest to researchers seeking to understand the myriad of impacts of the pandemic on the lives of young people and their families. In addition to the 'original' questions asked of those who took part before the pandemic – and as such provided data enabling comparative analysis pre- and post-onset of the pandemic – a number of COVID and lockdown-specific questions were added. These included questions about home schooling, as well as changes to parents' income and employment.
In total, 2417 interviews with cohort members and their main carers were achieved before the pandemic in March 2020 and a further 526 cases achieved after the onset of the pandemic.
The full age 14 dataset will be available through the UK Data Service and will provide a unique opportunity to explore experiences of 14-year-olds and their families in Scotland immediately before and after the first lockdown in spring 2020. An initial look at the data collected in summer 2020 suggests many young people were concerned about the impacts of the pandemic – not only the immediate effects on mental health and education but also for the longer term.
Initial analysis also indicates inequalities in home learning behaviours and experiences, such as the amount of time young people spent on home schooling. For example, young people whose parents were educated to at least degree level were more likely than those whose parents did not have a degree to report spending at least 5 hours a day on home schooling.
What's ahead?
The coming year will see us re-visiting families in Birth Cohort 1 at around the time cohort members are aged 17 and most are in their final year of secondary school (Secondary 6).
This data collection sweep will provide an opportunity to gather information on the experiences of a cohort of young people; most of whom have missed not just one but two sets of exams. The majority of our cohort had their National 5s (the Scottish equivalent of GCSEs) cancelled in 2020 and their Highers (the Scottish equivalent of A-levels) cancelled in 2021. This disturbance in their educational experiences may have impacted on their aspirations and mental wellbeing as well as potentially having longer term impacts on educational and employment trajectories.
A future sweep of data collection is planned when cohort members are aged 20. This will explore the medium-term impacts of the pandemic on young people's lives – not just on education and attainment, but on a host of outcomes including mental health, behaviours, expectations, and attitudes.
Further information
---
Line Knudsen is Research Director at ScotCen, the organisation responsible for managing the Growing Up in Scotland study. Follow the study on Twitter: @growingupinscot
Suggested citation:
Knudsen, L. (2021). 'Growing Up in Scotland: before, during and after COVID-19'. CLOSER. 16 September 2021. Available at: https://www.closer.ac.uk/news-opinion/blog/growing-up-in-scotland-before-during-and-after-covid-19/