Approx. reading time: 8 minutes
In our first ever 'long-read', Rob Davies marks our 10-year anniversary with a look back over the past decade and how we've evolved from the early days of the Cohort Resources Facility into CLOSER, the home of longitudinal research.
The bid
It was an innovative and ambitious proposal – the establishment of an interdisciplinary Cohort Resources Facility to provide the infrastructure needed to maximise the use, value and impact of data collected through the unique and internationally-renowned set of UK longitudinal population studies. At the heart of this, a bold vision of a new Uniform Search Platform (USP) to allow researchers to search across a broad portfolio of Economic and Social Research Council (ESRC) and Medical Research Council (MRC)-funded studies for information about the data available for analysis, along with a range of educational resources and training opportunities, and a set of innovative research projects to facilitate interdisciplinary research and encourage cross-study analysis.
CRF to CLOSER – the early years
It's never been entirely clear how Cohort Resources Facility (CRF) became Cohort and Longitudinal Enhancement Resources (CLOSER) – it could have been the foresight of those around the table to future-proof the organisation, or simply a middle-ground that had to be found between 'cohort' and 'longitudinal' – perhaps we'll never know. Regardless of this adjustment, the ambition remained the same and a decade later CLOSER hasn't failed to deliver.
Bringing together multiple longitudinal population studies, spanning several institutions is no small feat, let alone delivering on an ambitious programme of activity whilst trying to demonstrate impact at an early stage. In October 2012, this task fell to our first Director, Professor Jane Elliott, who for the first time brought together academic and professional study staff working across UK biomedical and social science studies in an environment where differences and shared experiences could be openly discussed.
USP quickly changed to CLOSER Discovery, reflecting the main purpose of a tool designed to meet the complex needs of modern research, and work began on the seemingly impossible task of developing a single point of entry to the hundreds of thousands of variables in the (original) eight CLOSER studies.
In 2014 CLOSER launched its website – aimed at a wide-range of users, from those interested in using the data to those interested mainly in findings. As part of this, a new resource 'Our changing society' was created – a set of interactive graphs providing researchers with detailed information about the historical and political backdrop to study participants' lives in 37 topic areas, including income inequality, life expectancy and unemployment. The beginnings of what would eventually become three Communities of Practice to facilitate collaboration, share best practice and help train staff within the longitudinal population study community also emerged with the first meetings of the CLOSER Longitudinal Communications Network (LCN). Years later, in response to a growing need from the data and research communities, the LCN would be complemented by a Data Linkage Working Group and Data Managers Network.
Enhancing the CLOSER package – the expansion years
In September 2014, CLOSER's founding Director departed to lead the ESRC, and we welcomed Professor Alison Park as our new leader in February 2015. Later that year, CLOSER's inaugural conference took place at the British Library, marking the start of a series of collaborative 'State of the Nation' events bringing together representatives of longitudinal population studies from across the world to share experiences and knowledge, discuss challenges and opportunities, and how we as a community can address these.
Alison's tenure also marked the beginning of an expansion of our offer and resources, and increased focus on our mission to increase the visibility, use and impact of longitudinal population studies, data and research. In 2016, CLOSER launched its flagship monthly newsletter 'Longitudinal News' and accelerated the production of a range of accessible communications products, such as blogs, animations and infographics. The introduction of a Public Affairs Manager addressed the need to mobilise evidence and insights from CLOSER's suite of publicly-funded studies to inform major policy themes such as childhood obesity, mental health, life chances, and research data. During this period, we began our successful programme of ambassadorial engagements and outreach, showcasing longitudinal population studies, data and research on national and international stages – engaging with existing and potential new users of the data to understand their needs and how we could help meet these.
CLOSER's offer and added value was further enhanced in 2017 with the launch of our free, online educational resource introducing researchers, students and policy makers to the basics of longitudinal population studies, data and research. Today the CLOSER Learning Hub contains a diverse set of resources, including learning modules, animations, research case studies and teaching datasets, and is used by several thousand users every month. These have been complemented by an active programme of training and capacity building events, including on research methods, harmonisation, and data linkage, and a bank of resources for researchers to help them engage, understand and use longitudinal data.
Our flagship resource, CLOSER Discovery, continued to increase the discoverability and use of longitudinal data – monumental efforts now means that 11 studies have their data included in Discovery in unprecedented detail, allowing researchers to search, explore and assess data from multiple longitudinal population studies and enabling meaningful comparisons within and between studies.
Mobilising data and generating impact during a global pandemic
2019 saw the arrival of a new CLOSER Director, Professor Rebecca Hardy, who began the work that would lead to the expansion of CLOSER from eight to 19 studies, in response to changes to the longitudinal population studies landscape and an increasing need and desire for studies to work together. It was only a few months after our (now seemingly prescient) second 'Preparing for the future' conference series in January 2020 when "unprecedented times" became a common-used phrase and we, like the rest of the scientific and wider community, pivoted to respond to a global pandemic.
Created in May 2020, CLOSER's COVID-19 Taskforce mobilised data, research and policy specialists to capture and showcase the response of our studies, present a coherent narrative to policy and decision makers, develop resources for researchers, and make COVID-19 data more discoverable. CLOSER's bespoke online platform, the COVID-19 Longitudinal Research Hub, quickly established itself as a trusted source of information and insights across the research and policy landscapes. Our research tracker brought together all the briefing notes, reports, academic publications and articles using data from our studies in one place, and the CLOSER Discovery team rapidly moved to ensure COVID-19 data from seven longitudinal population studies were available to researchers in unprecedented detail.
The onset of the COVID-19 pandemic also transformed our training and learning offer. Our online workshop with the UK Data Service (UKDS) helped students and newcomers to longitudinal population study research get to grips with analysing real-world study data and our series of webinars 'Metadata in the Real World' invited the metadata community to showcase their work, as a way of connecting CLOSER's wider network to these new developments in metadata. Alongside this we produced a new module on Understanding metadata for the CLOSER Learning Hub.
Our efforts on data innovations and enhancements continued apace with the fruition of years of work in developing useful resources for researchers: cross-study guides on dietary data, physical activity measures, and cognitive measures along with a set of harmonised datasets for use by the research community completed an intensive period of activity as we transitioned into a new ESRC-funded grant extension towards our tenth year of operation.
A changing landscape and uncertain future – where next for CLOSER?
CLOSER's short-term funding since the initial 5-year grant in 2012 has, in part, stifled some of our ambitions – our current grant extension runs until September 2024 and we continue to operate in a rapidly changing landscape with Population Research UK (PRUK), previously Population Research Resource (PRR), on the horizon. Added to this, the ESRC is currently looking into how to fund data services in the future – the Future Data Services (FDS) programme will develop a long-term plan to strategically invest in data services beyond 2024.
That said we are in an incredibly strong position – CLOSER Discovery is viewed as the gold-standard in metadata management best practice and the team regularly advises research projects, studies and infrastructures across the UK, Europe, North America and Australia. Our resources and outputs are highly valued by both research and policy communities, particularly those that meet their needs such as evidence synthesis drawing together evidence and insights from multiple longitudinal population studies to inform policy and decision making. The unique network of CLOSER, the specialist expertise of the team, and the reputation and trust we have built over the past decade enable us to effect change across data, research and policy communities, and our focus on added value ensures that we are everywhere and nowhere at the same time.
Given the staff profile of CLOSER of around a dozen people, this makes our achievements even more impressive; however, none of these would be possible without our partners, our "jewel in the scientific crown" longitudinal population studies and the hundreds of thousands of study participants, whose contribution to science over many decades has demonstrably improved people's lives.
To infinity and beyond
The dedication, talent and passion and of all those who have worked (and continue to work) in the home of longitudinal research never ceases to amaze me and the potential for development and expansion strikes me as limitless, along with the opportunities of new partnerships and innovative projects. Our ambitions and desire to see our diverse range of resources and programmes expand to meet the changing and growing needs of the communities we serve remains the same as it ever was.
With appropriate, consistent, long-term funding for CLOSER to continue to deliver on our core mission the possibilities are endless – from increasing the number of studies, expanding our internship programme and advisory role to developing new national and international data, research, infrastructure and policy partnerships, the opportunity for CLOSER to grow and scale up our activities is clear. Regardless of what happens, I can guarantee you we will leave it all out on the field.
Charting our first decade in numbers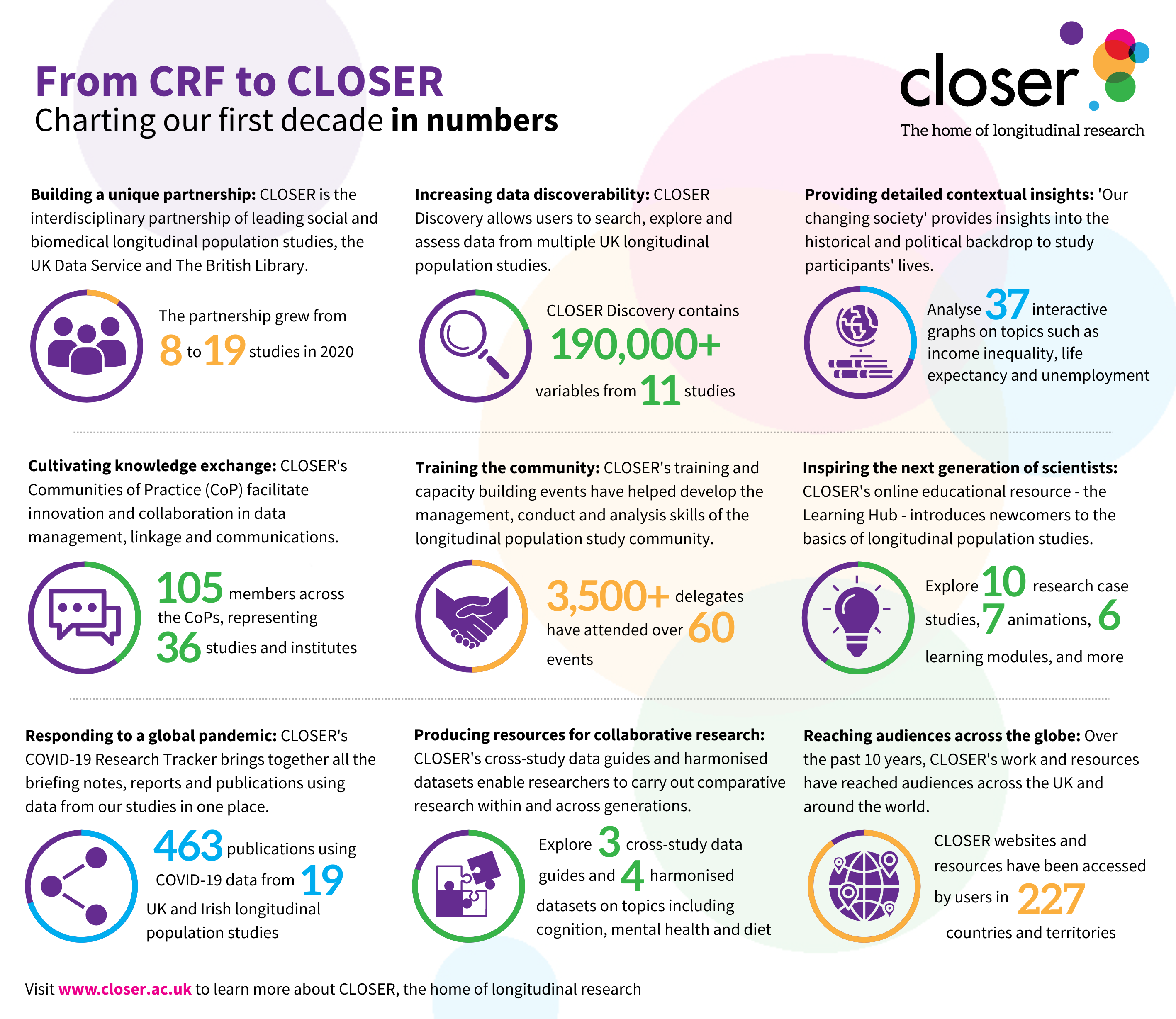 ---
Rob Davies is Head of Policy and Dialogue at CLOSER. Follow Rob on Twitter: @r0bdavies
Suggested citation:
Davies, R. (2022). 'From CRF to CLOSER – charting the first 10-years of the home of longitudinal research'. CLOSER. 15 December 2022. Available at: https://closer.ac.uk/news-opinion/blog/charting-10-years-closer/