What data has been collected on diet in the British birth cohorts? How do physical activity questions compare across different studies? Discover how to find all this information across multiple longitudinal population studies with our cross-study data guides!
It is always exciting to have a new research idea, but it can be overwhelming and time-consuming to find out whether the study or studies you want to use have the data you need to answer those burning research questions. Trawling through data dictionaries and questionnaires is a difficult task which only becomes more daunting when you're looking through multiple waves of several studies. Researchers also sometimes need a little more background information about a certain measure or test, as well as information about how (or if!) the data can be successfully compared across studies. This is where CLOSER's cross-study data guides can help!
Our cross-study data guides
CLOSER's three cross-study data guides (on diet, physical activity, and cognition) provide background information about measurement techniques in each topic and detailed information about the exact measures included in the studies. The guides can be accessed online or downloaded as a pdf to keep in your files; some even contain searchable indexes of the available measures that can also be downloaded for your own use.
These guides allow you to explore available data on a specific topic across multiple studies at once; particularly useful when carrying out cross-study comparisons and harmonisation. Each guide contains detailed documentation and metadata about the variables and measures, but also helpful summary information so a quick glance can show you when an item was measured, at what age, and in which sample.
Each of the guides also discusses the comparability and harmonisation potential of the variables and measures they contain. This helps you determine whether it is possible to harmonise variables and to make direct comparisons, or whether the measures are too different to be meaningfully compared.
Physical activity
Our physical activity cross-study data guide describes six domains of physical activity (leisure time, occupational, active travel, domestic activities, sedentary behaviour, and accelerometery) across all life stages and contains a searchable electronic index with variable names and comparable measures across six studies.

Diet
Our dietary measures cross-study data guide defines and summarises dietary assessment tools used across eight studies. It covers all life stages (pre- and during pregnancy, infancy, childhood, adolescence, adulthood, older age) and describes an example of harmonising dietary data.

Cognition
Our cognitive cross-study data guide explores measures used in childhood and adulthood and describes the measurement of cognition and different cognitive tests. Detailed information for each cognitive test is provided, including at the variable level, descriptive statistics used in five studies, and a report on the feasibility of harmonising these measures across the studies.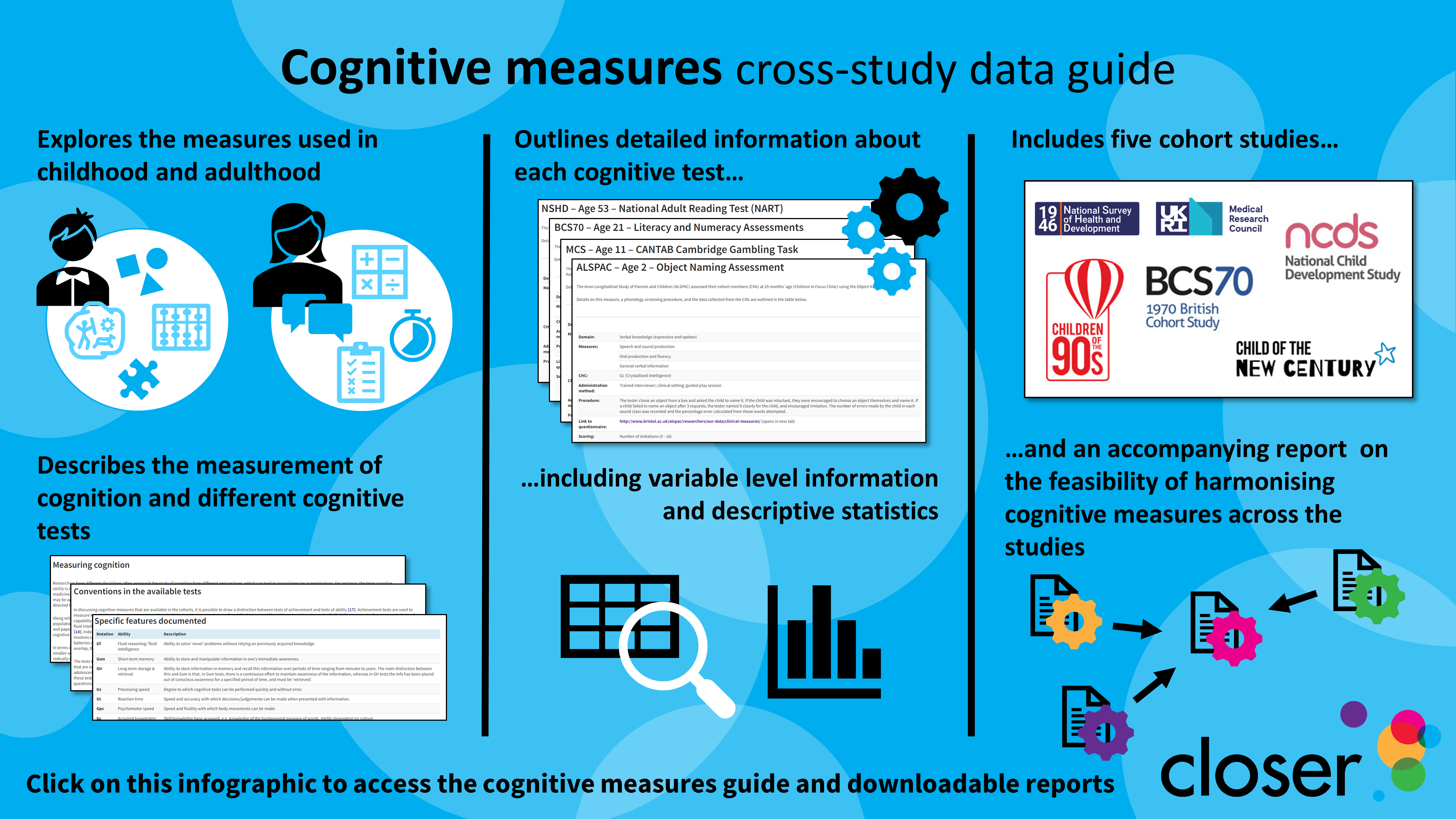 Discover more
Using these data guides alongside our innovative research tool CLOSER Discovery makes finding the data for all the elements of your research question a lot easier. The cross-study data guides help you quickly build an idea of the data available on a particular topic (for example, frequency of sports/exercise for leisure in middle age) and know exactly when this was measured and which study survey to download or apply for. Using CLOSER Discovery, you can explore the accompanying information in that data collection sweep, as well as in previous or later sweeps. You can also collect the variables that might be the predictor/outcome of interest and find rich contextual information that can be used in sample descriptions or as covariates.
Recent updates
But of course, these guides are only useful if they retain comprehensive coverage of the studies included. This is why we periodically update them to contain the most up-to-date information and to add in new data. Our physical activity guide now includes information from the most recent data collections of the Millennium Cohort Study and Understanding Society, as well as the COVID-19 data collections of the British birth cohorts, ALSPAC, and Understanding Society. It also includes more information about the accelerometery data across the studies.
These cross-study data guides present information in a way that is accessible to researchers of all skill levels. Whether you are just starting out with longitudinal data or have many years of experience using study data, the guides will have something to help you in your research.
Additional resources
Other resources that supplement the guides:
Sign up to Longitudinal News for notifications about new guide updates and other free resources for researchers.
---
Dr Charlotte Campbell is a Research Fellow at CLOSER based in the UCL Social Research Institute. Follow Charlotte on Twitter: @Charly_Campbell
Suggested citation:
Campbell, C. (2023). 'Comparing apples and oranges? Enabling cross-study research with CLOSER's data guides'. CLOSER. 22 May 2023. Available at: https://closer.ac.uk/news-opinion/blog/comparing-apples-and-oranges-enabling-cross-study-research-with-closers-data-guides