Hertfordshire Cohort Study
The Hertfordshire Cohort Study (HCS) comprises a nationally unique study of 3,000 men and women born during the period 1931-1939 and still resident in the English county of Hertfordshire during the 1990s. The HCS was initiated, developed and is maintained by the MRC Lifecourse Epidemiology Centre, University of Southampton.
The principal objective of the study is to evaluate the relationship between early (prenatal and early postnatal) growth, genetic influences, adult lifestyle and the risk of common age-related disorders such as osteoporosis, osteoarthritis, sarcopenia, type 2 diabetes and cardiovascular disease.
The NHS Central Register at Southport was used to trace men and women whose birth and infant data were recorded in historical ledgers by midwives and health visitors. Information available on these individuals includes birth weight (recorded by the attending midwife), weight at age one year (recorded by a health visitor), the method of infant feeding, and details of childhood illnesses up to age five years.
At follow-up in 1998-2004, medical and social histories were ascertained for 3000 people, alongside detailed measurements of anthropometry, blood pressure, glucose tolerance, fasting serum cholesterol and triglycerides, bone density and physical performance. DNA was collected from all participants and is stored in the MRC Lifecourse Epidemiology Centre. Participants are flagged for continuous notification of death on the NHS Central Register. Subgroups of participants have taken part in follow-up studies focused on muscle and bone ageing.
HCS has been a key source of evidence for lifecourse influences on health and disease in later life.
Sample design
The ledgers contained records for 39 764 live births in Hertfordshire between 1931-1939. Multiple births, deaths during childhood, records with missing birth weight or weight at 1 year, or with insufficient tracing information were excluded and the details of the remaining 24 130 boys and girls were sent for tracing by the National Health Service Central Register (NHSCR) in Southport. A total of 8650 men and women were traced as still alive in Hertfordshire in 1998 and the Hertfordshire Family Health Services Authority (FHSA) confirmed that 7106 of these were currently registered with a Hertfordshire General Practitioner (GP); these men and women comprised the HCS target population. Permission to contact 6099 (86%) men and women by letter was obtained from their GPs and 3225 (53%) agreed to a home interview with a trained research nurse. Subsequently, 2997 (93%) men and women attended a clinic for detailed physiological investigations.
Linked data
Routinely collected mortality data are available for those who have died; hospital admissions data are linked from individual baseline to 31/03/2010
Management and funding
The study is based at the MRC Lifecourse Epidemiology Centre at the University of Southampton. It is funded primarily by the Medical Research Council, with some support from medical charities such as the British Heart Foundation and the Arthritis Research Campaign.
Accessing the data
Bona fide researchers who want further information about the study , or who wish to apply for a collaborators' agreement, should email hcs@mrc.soton.ac.uk
CLOSER Discovery
Variables from HCS are available to explore in CLOSER Discovery – our innovative research tool that enables researchers to search, explore and assess data from multiple UK longitudinal population studies.
Users can search through rich metadata, and filter by study, topic and life stage in order to find the relevant data for their investigations.
Start exploring HCS variable metadata in CLOSER Discovery
Extract from the Hertfordshire health visitor's records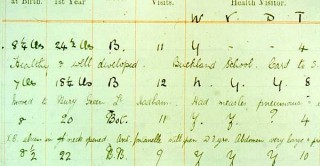 Cohort profile
Syddall HE, Simmonds SJ, Carter SA et al. The Hertfordshire Cohort Study: an overview [version 1; peer review: 3 approved]. F1000Research 2019, 8:82
Introducing the Hertfordshire Cohort Study
---