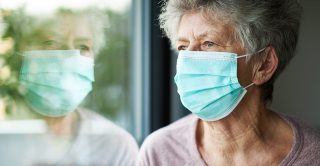 The Hertfordshire Cohort Study (HCS) has launched a new COVID-19 sub-study to track the impact of the pandemic on its participants.
Funded by the Medical Research Council (MRC), the HCS comprises a nationally unique study of 3,000 men and women born in Hertfordshire during the period 1931-1939, and still resident there in later life. The participants have been regularly followed by home visits and questionnaires since 1998 by researchers at the MRC Lifecourse Epidemiology Unit at the University of Southampton, directed by Professor Cyrus Cooper.
Researchers now aim to explore how the COVID-19 pandemic and associated government measures are impacting older people's lives and what the implications might be for their physical and mental health and wellbeing.
Participants contacted via telephone as part of the HCS Nutrition and Physical Activity Study –  a randomised controlled trial of healthy conversations skills to improve physical activity and nutrition – will be asked if they are willing to take part in an additional telephone interview to provide information on the impact the pandemic has had on their daily lives. The interview will consist of a short structured questionnaire and is due to begin shortly.
Deputy Director of HCS, Professor Elaine Dennison, said: "The HCS participants have been hugely generous with their time in the many studies that have been conducted over the years; this is an important opportunity to capture their reflections on the impact of COVID-19."
The HCS Nutrition and Physical Activity Study had already visited 190 participants in their homes before the study was paused in March 2020 due to the UK lockdown. Follow-ups are currently underway and have been moved to telephone calls rather than home visits.
The HCS COVID-19 survey features on the CLOSER COVID-19 Longitudinal Research Hub, which captures and showcases the response by the social and biomedical longitudinal studies to the pandemic.
Further information