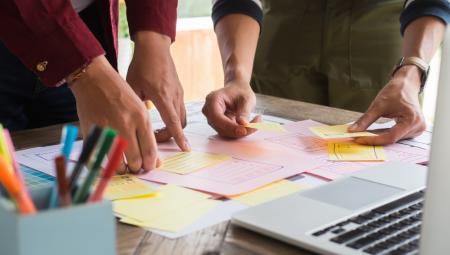 CLOSER Interns, Hatem Mona and Mutong Li reflect on their 3-month research and policy internship, including their introduction to data harmonisation and how to mobilise research to policymakers.
Policy engagement
Policies and interventions were a common theme during our academic studies. We were taught complex and advanced knowledge and skills, but the question remained "How do we actually transform high-quality research findings to drive or even shape policies?". At the beginning of our CLOSER internship we learnt about political structures and various avenues of engaging with policymakers that we had never heard of before. Rob Davies, Head of Policy and Dialogue, was our mentor on this journey – with his weekly masterclass sessions and invitations to various policy-focused webinars and events, we delved into the world of research-powered policies.  
Visit to Parliament
Our visit to Parliament was spontaneous! Jay Dominy, CLOSER's Public Affairs Manager suggested an in-person visit to Westminster Hall to watch a debate on tackling loneliness. To our surprise almost all debates in Parliament are open to the public to watch either in-person or online on Parliament TV. As we entered the Grand Committee room far away from tourists, we found ourselves with MPs from all political parties, including the previous and current ministers for loneliness, who used a mixture of academic findings and personal experience in their discussion. 
Learning from this, we started shaping our policy brief on loneliness in a way to build on the MPs' arguments. The key lesson for writing any engaging research-backed document to policymakers is to keep the message clear and in a manner which an intelligent 12-year-old could understand (a mantra drilled into us by Rob during our internship!).   
One webinar that stood out for us was 'What makes a successful special adviser', hosted by the Institute for Government. Having seen that among the speakers was one of Tony Blair's special advisers (Baroness Sally Morgan) and Nicola Sturgeon's adviser (Liz Lloyd), we asked the question "To what extent does an adviser of a government official bear accountability for policies made upon their advice?". This clearly chimed with the audience and they voted it to the top of the list.  All in all, we learned that discourse is an art and that more researchers need to attend policy related events to learn the language used and gain the confidence needed to engage with policymakers and those who can influence policy.  
Responding to the DCMS Areas of Research Interest (ARIs)
In response to a call for evidence from the Department for Culture, Media, and Sport (DCMS), we conducted a scoping review focused on two ARI themes; Civic engagement and Youth and Loneliness. This is an ongoing effort by DCMS to understand the benefits and costs of different forms of civic engagement, especially among young people. The department's research questions also demonstrated a post-pandemic interest in mental health and social capital. Our review summarised key findings and identified several policy recommendations. We worked side-by-side (literally) as a pair and the work was done smoothly! 
Creating data harmonisation resources
CLOSER-funded harmonisation projects generate harmonised datasets and other resources for a variety of topics to enable cross-study research. These datasets capture a large number of questions and variables from multiple time points and studies, making these easily accessible and useable. We each worked on a project with an unreleased harmonised dataset – household overcrowding and visual function. We learned to navigate between datasets with data spanning decades, interpreted and cleaned old syntax, translated syntax between programs, and contributed to technical user guides.  
We encountered several challenges when preparing these. Some of the datasets and variables from older syntax are now named or structured differently or had been altered for other reasons. By meticulously searching through older documentation resources, exploring and mapping the data, and breaking down the problems into smaller steps, we were able to produce working versions of the syntax that replicated the harmonisation process of the older syntax using the new versions of the data. We also added more data, collected since the original harmonisation work was completed, and produced the syntax in both Stata and SPSS to make it accessible to more researchers.  
Another challenge was translating the harmonisation process from the code into the user guides to explain the steps from the inputted raw data to the outputted harmonised data succinctly and clearly—but with enough information so that a reader can fully understand the process and replicate it if they wish—especially when the process is complex and fiddly! We could not have done this without guidance from Dr Charlotte Campbell our supervisor, who was always so supportive and made us feel at ease. We look forward to seeing the harmonised datasets deposited at the UK Data Service for researchers to use! 
Supporting each other has been a theme throughout the internship, even when it came to personal matters. There is a life-long friendship to be built and we are on a great start! 
On a personal note
"Before starting my internship, I never thought I would find work that resembles exactly the work I did during my masters in population health. Being able to apply all that theory in practice was thrilling andI am really grateful that I managed to improve my data management skills using STATA and SPSS. On the policy side, I learned, as a young researcher, the importance of engaging with government and parliament officials exactly because we need each other to put into action, changes to society that improve wellbeing, the economy, and others among all population groups."
– Hatem Mona

"Before this internship I had never thought about engaging with policymakers and politicians, I thought powerful research would just simply push through boundaries and create policies. Engaging with politicians is different from engaging with research participants and the art of subtlety whilst keeping true to your goals is perhaps a difficult one to master.  Policy aside, I also picked up crucial technical skills, such as version control, writing reproducible code, and translating syntax between Stata and SPSS, which I had not previously experienced. All in all, I think CLOSER provided a full-package learning experience that is essential for any early-career researcher."
– Mutong Li
---
Hatem Mona and Mutong Li completed their research and policy internships with CLOSER in summer 2023. During this time, they both graduated from University College London – Hatem with an MSc in Population Health and Mutong with a MSc in Epidemiology. Connect with Mutong on LinkedIn. 
Suggested citation:
Mona, H & Li, M. (2023). 'Working at the intersection of academia and policy: reflections on our CLOSER internship'. CLOSER. 16 August 2023. Available at: https://closer.ac.uk/news-opinion/blog/intersection-of-academia-and-policy/