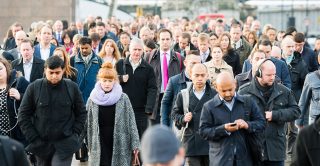 The overriding message from a report published today on the future of longitudinal population studies is that knowledge sharing and collective action are key to overcoming barriers and harnessing opportunity.
The report, entitled Preparing for the future: Tackling the key challenges facing the UK's longitudinal population studies, documents the discussions at a one-day conference hosted by CLOSER in December 2018. Around 70 delegates – including representatives of 17 UK longitudinal studies – came together to identify a way forward for longitudinal science in:
New forms of data collection: the potential of new technology, and the skills and knowledge needed to harness these opportunities.
Data harmonisation: the scientific value of retrospective and prospective harmonisation, and the importance of collaboration in achieving this.
Data linkage: the solutions needed to overcome practical barriers to realise the potential of linking administrative and survey data.
Biosample management: the role of collective action in making the most of precious, exhaustible resources.
Policy impact and engagement: the need to build better relationships with policymakers, and document the contributions of longitudinal evidence and data to policy development.
While the report outlines actions for individual studies and funders, the majority of the recommendations require collaboration. Driving innovation requires more knowledge sharing, in both what works and what doesn't. Improving the quality of longitudinal research, including cross-study analyses, requires greater agreement on standards, priorities and data collection methods. When engaging with Government and Parliament, particularly around data linkage, greater strides can be made by speaking with one voice.
Prof Rebecca Hardy, who takes up the CLOSER directorship today, said: "We're thrilled to be able to publish this report, which captures the shared challenges we face in securing the UK's position as a world leader in longitudinal research. The longitudinal community has expressed a strong desire to work in partnership, and CLOSER is committed to supporting them in these efforts to drive progress."
View the report
The full conference report and separate executive summary are available to view and download from the CLOSER website:
Related news and blogs
How CLOSER can help the UK's longitudinal population studies meet the challenges facing them in the future
Dr Lisa Calderwood