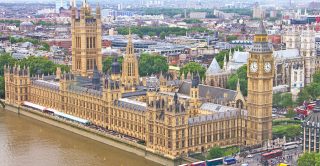 Government will prioritise investment in world-leading science research
Science, space and research
In the second Queen's Speech of 2019, the newly-elected Conservative Government has outlined its legislative programme for the next Parliament, pledging to prioritise investment in infrastructure and world-leading science research and skills.
In total, there were 30 Bills unveiled in the Queen's Speech, the largest number since 2006, with the EU Withdrawal Bill as the number one priority, followed by a programme of domestic reform. Measures to "make the UK a global science superpower that attracts brilliant people and businesses from across the world" include:
Significantly boosting public R&D funding, including a new approach to funding emerging fields of research and technology.
Backing a new approach to funding high-risk, high-payoff research in emerging fields of research and technology. Note that the Government will work with industry and academics to finalise this proposal.
Introducing a new fast-track immigration scheme for scientists and researchers.
Reducing bureaucracy in research funding to ensure scientists are able to spend as much time as possible creating new ideas.
Establishing a new National Space Council and launching a comprehensive UK Space Strategy.
The Government will develop proposals for a new funding agency and prioritise investment in industries of the future where it believes the UK can take a commanding lead – such as life sciences, clean energy, space, design, computing, robotics and artificial intelligence – by investing in hubs around world-leading universities.
Read the Queen's Speech in full on the gov.uk website and download the background briefing notes for more information.
---
Love longitudinal?
So do we.
Sign up to our email newsletters to get the latest from the home of longitudinal research.