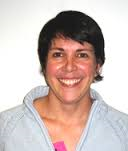 Rebecca Hardy, Professor of Epidemiology and Medical Statistics at UCL, has been appointed as the new Director of CLOSER. She will take up the role in April 2019.
For the past 15 years, Prof Hardy has served as Programme Leader at the MRC Unit for Lifelong Health and Ageing at UCL, where she focuses on the life course risk factors that influence cardiovascular ageing. Much of her research has been based on data from the MRC National Survey of Health and Development, the UK's oldest national birth cohort.
She has also played a central role in CLOSER since its launch in 2012. Prof Hardy has led the organisation's training and capacity building programme, and has served as a member of the Leadership Team and Executive Group. She has also led CLOSER's work to harmonise measures of height, weight and BMI across five cohorts.
Prof Hardy's research interests include how prenatal development, childhood growth, adult BMI trajectories, and trajectories of physical function (such as blood pressure and lung function) influence later health and ageing. She also investigates the exposures that influence life course body size and the shape of the functional trajectories. She is an experienced cross-cohort researcher, having carried out large-scale comparative analyses through CLOSER, HALCyon and FALCon. With her background in statistics, she is also interested in the methodology for the analysis of life course and longitudinal data and for cross-cohort comparisons, including data harmonisation.
Prof Hardy said of her appointment: "I am delighted and honoured to be appointed CLOSER Director. CLOSER plays a vital role in promoting the value, use and impact of the UK's remarkable longitudinal studies, and I look forward to leading the organisation to ensure the continuation and extension of the vital role that it plays in relation to data linkage, data harmonisation and data discovery. I am excited to work with the excellent CLOSER team and wider consortium to deliver resources, support and training for the interdisciplinary longitudinal studies research community, to maximise the impact of longitudinal research and to inspire the next generation of longitudinal studies researchers."
Professor Jennifer Rubin, Executive Chair of ESRC said: "The ESRC's Longitudinal Studies Review emphasised the great work CLOSER has been doing to promote the value, use and impact of the UK's longitudinal studies. We are delighted that Professor Rebecca Hardy has been appointed as CLOSER's new Director and are confident that her considerable longitudinal expertise will be invaluable in shaping its future activities."
Lynn Molloy, a member of CLOSER's Executive Team and Chief Operating Officer for the Avon Longitudinal Study of Parents and Children, said: "Professor Rebecca Hardy brings a wealth of relevant experience to her new role leading the CLOSER team. There are huge opportunities to build on and develop the work CLOSER has achieved since 2012 and the Executive and I look forward to working with Rebecca as she leads this important investment. We would also like to thank former Director Prof Alison Park for her outstanding contributions to CLOSER's success to date, and Dr Lisa Calderwood for providing invaluable interim leadership for the team."
Prof Hardy's predecessor, Prof Alison Park, left to become Director of Research at the ESRC.