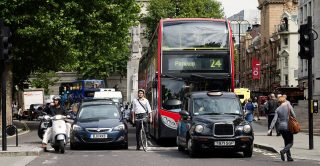 Are you a researcher looking to inform the evidence priorities of a government department?
The Department of Transport wants to hear from you!
An updated 'Areas of Research Interest' (ARI) for 2019 has been published by the Department for Transport (DfT). It aims to provide an overview of DfT's research priorities and evidence needs over the coming years: their immediate needs alongside more strategic evidence priorities.
The ARI highlights the need to exploit existing datasets, specifically undertaking additional analysis of longitudinal data sets to explore issues such as the interaction between transport and life opportunities and changing car ownership. Other areas of interest that could be informed by longitudinal evidence include:
Understanding the relationship between housing, transport, employment and wellbeing.
Better understanding the value of active travel and the quality of place amongst local communities.
The benefits of linking DfT data to other sources, such as social media data.
For more information, take a look at the DfT 2019 ARI report.
If you would like to discuss or find out more about the DfT's research needs, please email the DfT 'Bridge to Research' at BridgetoResearch@dft.gov.uk
---
Love longitudinal?
So do we.
Sign up to our email newsletters to get the latest from the home of longitudinal research.