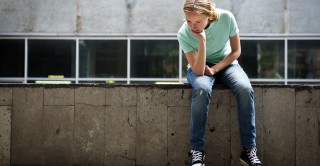 Lesbian, gay and bisexual (LGB) young people are more likely than their heterosexual classmates to be bullied throughout secondary school and into adulthood, according to new research.
Dr Morag Henderson, of the UCL Institute of Education (IOE), examined the experiences of more than 7,200 young adults from across England, who were born in 1989-90 and are being followed by a study called Next Steps. At age 20, the young adults were asked about their sexual identity and whether they had been bullied in the previous 12 months. Dr Henderson compared this information to their experiences of being bullied in secondary school.
Young LGB adults had a 52 per cent chance of having been bullied in the past year at age 20, compared to a 38 per cent chance for their heterosexual peers, after taking into account other characteristics that may make someone more likely to be targeted, such as gender, ethnicity, disability, or family socioeconomic background.
The situation had improved slightly since their school years. Between the ages of 14 and 16, young people who later went on to identify as LGB had a 56 per cent chance of having been bullied in the past year, compared to a 45 per cent chance for their heterosexual peers.
However, LGB young people were at considerably greater risk of being bullied frequently – that is, once or more every fortnight – during secondary school. LGB young people were more than twice as likely as their heterosexual classmates to be regularly physically bullied and excluded from social groups.
By the time they reached age 20, young LGB adults were less likely than their heterosexual peers to report being 'very satisfied' with how their lives had turned out so far. However, all young adults – regardless of sexual identity – were less likely to be very satisfied with their lives if they had been bullied.
This is one of the only large-scale studies in England that tracks the bullying experiences of LGB people through schooling and into adulthood. Previous research has shown that the scarring effects of childhood bullying on physical and mental health can persist well into middle age.
The findings will be presented on Monday, November 9 at a seminar in London as part of the Economic and Social Research Council's Festival of Social Science. The event is co-hosted by the IOE's Centre for Longitudinal Studies and the Anti-Bullying Alliance.
"Although all people are less likely to be bullied as they get older, young LGB adults remain at higher risk than their peers," Dr Henderson explains. "These findings suggest that in order to tackle the problem, anti-bullying interventions cannot be focused only at schools and their pupils. Policymakers, employers, further education institutions and others working with young adults need to do just as much in order to challenge discrimination at all ages."
Anna Henry, Chair of the Anti-Bullying Alliance and Director of Policy, Office of the Children's Commissioner said:
"These findings highlight how essential it is that we support all children and young people who are experiencing bullying, being particularly mindful to vulnerable groups. We also need to consider how wider prejudices within society have a long lasting impact on bullying behaviour – even into adulthood. We all need to take responsibility for bullying behaviour – whether it is happening in schools, our communities or online. It is vital that all children and young people are empowered to speak out about bullying, which is why the theme of this year's Anti-Bullying Week is Make a Noise about Bullying. This includes feeling empowered to speak out about prejudice related bullying and having the confidence that teachers will listen and take action."
Read the full paper
Briefing paper: Bullying among lesbian, gay and bisexual young people in England (PDF)
Henderson, M. (2015) Understanding bullying experiences among sexual minority youths in England. CLS working paper 2015/8. London: Centre for Longitudinal Studies.
Further information
Meghan Rainsberry
m.rainsberry@ioe.ac.uk
0207 612 6530
07531 864 481
Ryan Bradshaw
r.bradshaw@ioe.ac.uk
020 7612 6516
07952 910 359
Notes to editors
Participants were asked about their experiences of being bullied in the previous 12 months at ages 14, 15, 16 and 20. Those who said they had been bullied were then asked how often they were bullied, and what types of bullying they had experienced. Those who reported being bullied 'once every two weeks or more' were considered to be frequently bullied.
Participants were only asked about their sexual orientation at age 20, and not during their school years.
Interviews were conducted throughout the school year that the study members turned 20, meaning not all participants had reached their 20th birthday at the time of interview. Similarly, earlier interviews were carried out in the years that participants turned 14 (actual age 13/14), 15 (actual age 14/15) and 16 (actual age 15/16).
Next Steps (previously known as the Longitudinal Study of Young People in England) has been following the lives of about 16,000 young people born in 1989-90 who attended secondary school in England. The study began in 2004 when the participants were in Year 9 and turning 14 years old. Following the first survey, the participants were visited every year until 2010, when they turned 20. The next survey is taking place in 2015 at age 25. The study has collected a wide range of information across different areas of the participants' lives, including education, employment, economic circumstances, family life, physical and emotional health, and social participation and attitudes. Next Steps is managed by the Centre for Longitudinal Studies at the UCL Institute of Education, and funded by the Economic and Social Research Council. From 2004-2012, the study was managed and funded by the Department for Education. Visit www.cls.ioe.ac.uk for more information.
This research will be presented at a seminar entitled 'Bullying experience and effects: UK evidence' on Monday, November 9 at The Escalator in London. More information on this event can be found at www.cls.ioe.ac.uk/bullyingseminar.
Anti-Bullying Week in England is coordinated by the Anti-Bullying Alliance and this year is from 16-20 November. This year Anti-Bullying Week aims to empower children and young people to Make a Noise about bullying – whether it is happening to them or to someone else, face to face or online. Get involved at @ABAonline #antibullyingweek or go to our website for more information www.anti-bullyingalliance.org.uk
The Anti-Bullying Alliance (ABA) is a unique coalition of organisations and individuals, who work together to reduce bullying and create safer environments in which children and young people can live, grow, play and learn. ABA is hosted by the National Children's Bureau. For more information visit www.anti-bullyingalliance.org.uk
The Festival of Social Science is run by the Economic and Social Research Council and takes place from 7-14 November 2015. With events from some of the country's leading social scientists, the Festival celebrates the very best of British social science research and how it influences our social, economic and political lives – both now and in the future. This year's Festival of Social Science has over 200 creative and exciting events across the UK to encourage businesses, charities, government agencies, schools and college students to discuss, discover and debate topical social science issues. Press releases detailing some of the varied events and a full list of the programme are available at the Festival website. You can now follow updates from the Festival on Twitter using #esrcfestival.
The Economic and Social Research Council (ESRC) is the UK's largest funder of research on the social and economic questions facing us today. It supports the development and training of the UK's future social scientists and also funds major studies that provide the infrastructure for research. ESRC-funded research informs policymakers and practitioners and helps make businesses, voluntary bodies and other organisations more effective. The ESRC also works collaboratively with six other UK research councils and Innovate UK to fund cross-disciplinary research and innovation addressing major societal challenges. The ESRC is an independent organisation, established by Royal Charter in 1965, and funded mainly by the Government. In 2015 it celebrates its 50th anniversary.
The UCL Institute of Education is a world-leader specialising in education and the social sciences. Founded in 1902, the Institute currently has more than 7,000 students and 800 staff. In the 2014 and 2015 QS World University Rankings, the Institute was ranked number one for Education worldwide. It was shortlisted in the 'University of the Year' category of the 2014 Times Higher Education (THE) awards. In January 2014, the Institute was recognised by Ofsted for its 'outstanding' initial teacher training across primary, secondary and further education. In the most recent Research Excellence Framework, 94 per cent of our research was judged to be world class. On 2 December 2014, the Institute became a single-faculty school of UCL, called the UCL Institute of Education. www.ucl.ac.uk/ioe
University College London (UCL) was founded in 1826. We were the first English university established after Oxford and Cambridge, the first to open up university education to those previously excluded from it, and the first to provide systematic teaching of law, architecture and medicine. We are among the world's top universities, as reflected by performance in a range of international rankings and tables. UCL currently has over 35,000 students from 150 countries and over 11,000 staff. Our annual income is more than £1 billion. www.ucl.ac.uk | Follow us on Twitter @uclnews | Watch our YouTube channel YouTube.com/UCLTV