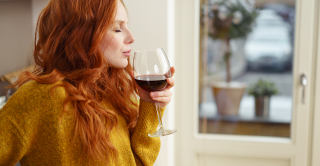 Researchers have called into question the apparent benefits of light alcohol consumption – as well as the supposed 'risks' of not drinking – after examining the drinking habits of middle-aged Britons.
A study from the UCL Centre for Longitudinal Studies and Pennsylvania State University analysed information on more than 9,000 people born across England, Scotland and Wales in 1958 who are being followed by the National Child Development Study. The researchers tracked changes in people's drinking and cigarette smoking habits from age 23 to 55, and linked this to their mental and physical health over the same period.
Light to moderate drinkers had no more than 14 units of alcohol per week, the current maximum recommended for men and women by the UK's Department of Health. This is equivalent to roughly six pints of beer or six medium glasses of wine.
About one third of men and women in the study said they drank at this light to moderate level from ages 23 to 55. This group was also very unlikely to smoke during that time. These people reported the best health and quality of life in middle age, compared to those who drank lightly to moderately but also smoked, those who both drank more heavily and smoked, or those who refrained from alcohol or cut back their drinking over time.
The supposed 'benefits' of moderate drinking – or indeed the 'risks' of abstaining from alcohol – have been widely reported in the media. However, many reports have failed to take into account people's lifetime health and histories of substance use.
For example, light to moderate drinkers slipped into poor health if they were former smokers or still had the occasional cigarette. This may be either a direct effect of smoking on health or because smoking often goes hand-in-hand with other unhealthy behaviours such as poor diet or lack of exercise.
Furthermore, about a quarter of men and women reported quitting or cutting back their drinking over the course of adult life. Many of these people began adulthood in poorer physical or mental health than their peers. At age 55, those who abstained from alcohol included former heavy drinkers, those who quit after falling into ill health, and those with long-term health problems who never took up drinking.
The health benefits of modest drinking habits can also be overstated if they are not separated from the benefits of education, which is well-known to be linked to better adult health. Having few or no educational qualifications was also associated with little or no drinking. On the other hand, men and women with the highest educational qualifications at age 23 were more likely than their peers to drink at light to moderate rates throughout their adult lives, and were unlikely to take up smoking.
Less than 2 per cent of 55-year-olds said they had never drunk alcohol in their lives. However, about 1 in 5 of these people had previously reported drinking when they were younger. This suggests it is not uncommon for those who drink very little to misremember previous drinking habits.
Professor Jeremy Staff, the study's lead author, said:
"Lifetime alcohol abstention appears to be very rare in this sample of British adults born in 1958. Alcohol abstainers are a diverse group. They include former heavy drinkers who quit due to problems with alcohol, as well as those who quit drinking due to poor health, and not just lifetime abstainers. Medical professionals and public health officials should be wary of drawing conclusions about the so-called 'dangers' of never drinking without more robust evidence."
Professor Jennifer Maggs, another of the study's authors, added:
"Evidence continues to grow that alcohol has many health risks, including for cancer. Therefore, it is dangerous to report only benefits of moderate alcohol consumption. Drinking habits are also shaped by our education, health earlier in life, and related lifestyle factors including smoking. These other influences may be the real factors underlying the connection between drinking and midlife health."
Professor Sir Ian Gilmore, chair of the Alcohol Health Alliance UK, said:
"This interesting study provides yet more evidence that any benefits associated with drinking alcohol are smaller than previously thought.
"The UK's chief medical officers are clear in their drinking guidelines that the risk of illnesses, including certain types of cancer, increases with any amount of alcohol drunk, however little. The guidelines also state that any benefits to drinking are smaller than previously thought, and only apply to women aged 55 and over who drink at very low levels (around 1 unit of alcohol per day).
"The most effective way to reduce the harms associated with alcohol consumption would be to introduce a minimum unit price for alcohol, below which a unit of alcohol cannot be sold. In Scotland, where the government is seeking to implement minimum unit pricing, research has shown that in the first year alone, 60 lives would be saved, and there would be 1,600 fewer hospital admissions.
"In addition, the government has a responsibility to ensure the public are aware of the harms associated with alcohol, so that they can make informed choices about their drinking. This should happen in two ways: mandatory labelling of all alcohol products, and government-backed national mass media campaigns."
Read the full paper
'Alcohol and cigarette use from age 23 to 55: Links with health and well-being in the long-term National Child Development Study' by Jeremy Staff and Jennifer Maggs was published in the Journal of Studies on Alcohol and Drugs in May 2017.
Further information
Meghan Rainsberry
University College London
m.rainsberry@ucl.ac.uk
+44 (0)207 612 6530
+44 (0)7531 864 481
Matt Chorley
Alcohol Health Alliance UK
matt.chorley@rcplondon.ac.uk
+44 (0)20 3075 1726
Notes to editors
The researchers used current UK Department of Health guidelines of no more than 14 units per week for men and women to define low-risk, light to moderate drinking. This limit came into effect in January 2016.
At age 55, participants reported whether they had any ongoing heart problems or other long-term physical or mental health conditions. They were also asked to rate their overall health from 'excellent' to 'poor', and answered questions to assess their quality of life. The researchers also took into account the participants' educational attainment, overall health, and psychological distress at age 23.
The UCL Centre for Longitudinal Studies (CLS) is resource centre based at the UCL Institute of Education. Professors Jeremy Staff and Jennifer Maggs of Pennsylvania State University are partners in CLS's healthy lifestyles research programme. cls.ioe.ac.uk
The UCL Institute of Education is a world-leading centre for research and teaching in education and social science, ranked number one for education worldwide in the 2014, 2015, 2016 and 2017 QS World University Rankings. It was awarded the Queen's Anniversary Prize in 2016. In 2014, the IOE secured 'outstanding' grades from Ofsted on every criterion for its initial teacher training, across primary, secondary and further education programmes. In the most recent Research Excellence Framework assessment of university research, the IOE was top for 'research power' (GPA multiplied by the size of the entry) in education. Founded in 1902, the Institute currently has more than 8,000 students and 800 staff. In December 2014 it became a single-faculty school of UCL, called the UCL Institute of Education. ucl.ac.uk/ioe
University College London (UCL) was founded in 1826. We were the first English university established after Oxford and Cambridge, the first to open up university education to those previously excluded from it, and the first to provide systematic teaching of law, architecture and medicine. We are among the world's top universities, as reflected by performance in a range of international rankings and tables. UCL currently has over 35,000 students from 150 countries and over 11,000 staff. Our annual income is more than £1 billion. ucl.ac.uk Follow us on Twitter @uclnews | Watch our YouTube channel www.YouTube.com/UCLTV
This research was funded in part through a grant from the National Institute on Alcoholism and Alcohol Abuse to the Prevention Research Center at Penn State (Maggs, Principal Investigator; Staff, Co-Investigator).
The Pennsylvania State University (Penn State) is both a public research university and a land-grant institution, serving students and communities through its 24 individual campuses across Pennsylvania. The University Park campus is home to a diverse population of approximately 41,000 undergraduate students and 6,000 graduate students. Penn State University Libraries rank 8th among North American research libraries based on the Association of Research Libraries Investment Index Ratings for 2011–2012 (the most recent available). Penn State is one of the leading research universities in the United States and boasts a longstanding tradition of proven research success. The National Science Foundation (NSF) collects research and development (R&D) data from over 900 academic institutions through its annual Higher Education Research and Development (HERD) Survey. The HERD Survey consistently ranks Penn State in the Top 20 for R&D expenditures. The University's latest Annual Report of Research Activity shows the University spent $813 million on research in fiscal year 2014, of which $117 million was expended from funding from the U.S. Department of Health and Human Services.