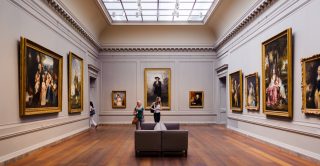 Taking Part survey consultation
The Department for Digital, Culture, Media and Sport (DCMS) is undertaking a strategic review of the survey needs of the department, including the Taking Part survey, and the impact that a potential change or discontinuation of the survey may have.
The Taking Part survey is a continuous face to face household survey of adults aged 16 and over and children aged 5 to 15 years old in England. It has run since 2005 and is the main evidence source for DCMS and its sectors.
The Taking Part survey collects data on engagement in arts, museums and galleries, archives, libraries, heritage, and sport. It includes information on frequency of participation, reasons for participating, barriers to participation, and attitudes to the sectors. The survey also gathers information on demographics and related areas including: social media use, free time activities, volunteering, charitable giving, and TV and internet use.
Since year eight of the Taking Part survey (2012/13), a longitudinal component has been included to enable greater understanding of the extent and cause of changes over time in participation in and engagement with cultural and sporting activities at the individual level, and as well as pathways in and out of participation and engagement.
DCMS is asking for your views on:
The evidence needs the Taking Part survey is currently addressing for you/your organisation.
The key evidence needs you feel the survey is not currently addressing.
The impact on your evidence needs if the survey is changed or discontinued.
This consultation will close at 10am on 22nd April 2020. The survey takes approximately 10-15 minutes to complete.
Access the Taking Part consultation survey.
You can find out more about the Taking Part survey on the gov.uk website.
---
Love longitudinal?
So do we.
Sign up to our email newsletters to get the latest from the home of longitudinal research.