Y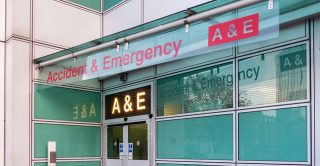 oung people from less advantaged backgrounds are more likely than their better-off peers to be admitted to hospital and to attend A&E when they are growing up.
Researchers from the University of Bristol analysed information on around 3,000 people who were born in the Bristol area in 1991-92 and are being followed by the Children of the 90s study. They examined information on family background, reported by mothers during pregnancy and early infancy, linked to data from electronic NHS records on children's hospital admissions between birth and age 20, and A&E attendance from age 14 to 20.
Over half (56%) of young people were admitted to hospital at least once before the age of 20, excluding admittance at birth. The most common reasons overall were digestive problems (16%), and injury or poisoning, including by drugs, medications or other substances (15%). The leading reason children aged 5 to 9 were admitted was tooth decay, requiring teeth to be extracted under general anaesthetic.
Between ages 14 and 20, just under half (48%) of young people had attended A&E at least once. Laceration was the most frequent A&E diagnosis for both young men (33%) and women (25%), and 3 per cent of these A&E attendances were recorded as 'assault'. However, A&E data do not currently allow for a confident estimate of how many of these A&E attendances were related to knife crime.
Hospital admission and A&E attendance rates were higher, on average, for young people from less advantaged families. Rates of hospital admissions were 22 per cent higher and A&E attendances were 58 per cent higher among those whose mothers were not educated beyond GCSE, after taking account of other factors. Those born to parents in manual occupations, and young people whose mothers gave birth before their mid-20s were also more likely to be admitted to hospital or A&E than their peers with different family circumstances.
By linking people's hospital records to information on their family circumstances, the researchers were able to capture more accurately the relationship between hospital admissions and A&E attendance, and people's social background.
The report said that as additional funding for GP practices in less advantaged areas is being reduced, this may diminish the capacity of many primary care organisations to manage the health needs of their local populations. As a result, these funding changes could exacerbate the current crisis in NHS resourcing. The authors said: "Serious concerns have been expressed that patient safety is being compromised by capacity difficulties in NHS hospitals. If funding allocated to GPs in less advantaged areas is not sufficient to allow for effective primary care management of patients with enhanced health needs, the flow of patients towards NHS hospitals for unplanned emergency care may be expected to increase."
Further information
'Socio-demographic patterns in hospital admissions and accident and emergency attendances among young people using linkage to NHS Hospital Episode Statistics: results from the Avon Longitudinal Study of Parents and Children', by Leigh Johnson, Rosie Cornish, Andy Boyd and John Macleod, was published in BMC Health Services Research Journal.
Access the linked data
The linked data used in this study are available to researchers by contacting the Children of the 90s linkage team. Visit the Project to Enhance ALSPAC through Record Linkage web page and follow @PEARLdata.