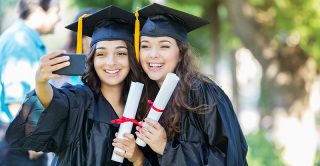 If you have come across any recent economics research on higher education you would be forgiven for believing that economists think the sole purpose of universities is to increase the earnings of their graduates.
This is not the case.
Earnings are clearly important. Earned income is the key component of the income of most individuals, so the way in which earnings are affected by a university education plays a significant role in determining graduates' living standards. The amount graduates earn also has a significant consequence for government finances, as earnings determine the amount of direct tax paid and the proportion of student loans that graduates repay. Also, the wages that graduates earn indicate their productivity levels. Paying attention to graduate wages can help to ensure that the higher education sector is equipping graduates with the skills demanded in the modern economy.
Recent evidence suggests that not only do universities have a large impact on earnings on average, but also there are significant differences between the impacts of different degrees. Studying economics increases earnings five years after graduation by around 25 per cent more than studying English. A degree from a top-10 university increases earnings by almost 15 per cent more than a degree from an 'average' university. The choice of whether to go to university, as well as what and where to study, clearly has significant consequences for graduates' earnings in later life, and this should not be overlooked.
However, university can affect a lot more than just earnings.
A new study released by the Institute for Fiscal Studies shows how higher education can affect graduates' future income in other ways than simply through the wage rate. Graduating from university increases the likelihood that a female graduate will have a partner who also has a degree by more than 20 percentage points. This, in turn, has the result that the partners of female graduates are more likely to be in work and to have higher earnings. The returns to higher education in the form of income from partner earnings are particularly important when women are in their early 40s and might have taken time out of the labour market to care for children. There is little sign that this 'assortative mating' return to higher education has diminished in recent years. This wider impact of higher education plays an important role in determining the income and living standards of female graduates.
Even this approach is still limited. Students do not simply decide whether to go to university or choose a particular university in order to maximise their lifetime income. Previous studies have shown that a key determinant of whether students go to university is how much students expect to enjoy the experience, and that students choose which university to attend based on how much they value the facilities at different universities.
Universities are a key determinant of the earnings power of graduates. But when considering the role universities play in determining the living standards and social mobility of graduates, it is vital to incorporate the wider impacts of higher education on both other sources of income and non-monetary outcomes.
Further information
This blog draws on a CLOSER-funded project investigating how families transfer wealth and advantage across generations. The research team harmonised measures of earnings and income in four CLOSER studies to allow comparisons within the same study over time and comparisons between different studies.
Read more about how longitudinal evidence has helped us understand a wide range of issues relating to women's employment.
---
Chris Belfield is a Research Economist at the Institute for Fiscal Studies. You can follow him on Twitter (@chrisbelfield).
Suggested citation:
Belfield C (2018) "The wider impacts of attending university", CLOSER blog.