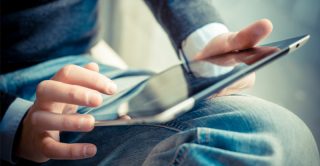 Across the world, longitudinal studies are facing a triple challenge of falling response rates, increasing fieldwork costs, and a squeeze on the budgets available for long-term surveys.
Mixed mode data collection, where traditional face-to-face or telephone interviewer led questioning is combined with online surveys, has been implemented to try to address these issues.  At CLOSER we've been researching the benefits and challenges of mixed modes across a range of surveys to better understand how mixed modes can be used.
Mixed modes give participants more choice
In an age where people expect to access information instantly, organise their life, shop and socialise online, the expectation from many participants is that they should be able to complete their survey when and where it suits them.  Our research found that using mixed modes doesn't automatically give a better completion rate than traditional single mode design, but was welcomed by certain participant groups – particularly those who moved house frequently, those in younger age groups and people who were confident computer users.
Mixed modes encourage innovative survey design 
Using mixed modes has led all the CLOSER studies to think about how to best integrate mixed modes into their survey designs. What is the best sequence and combination of modes for different populations? What are the best protocols for moving between modes during fieldwork? And how can non-response bias be addressed? Several studies have experimentally tested new ways of using mixed modes to the best advantage.
Mixed modes provide some cost benefits – over time
Mixed mode surveys are currently not offering the large cost savings that might be anticipated. Although the marginal cost of an online interview is much lower than the cost of a face-to-face interview, the increased fixed costs of scripting, testing, developing software and the processing and data management for mixed mode outweighs most of the cost savings. In time though, we may see greater cost savings as mixed modes become more integrated into studies and we better understand where they can be used most successfully.
Longitudinal studies have particular scope for maximising the benefits of mixed modes – contact details for participants are more easily available and people can be asked how they would prefer to respond to the survey, making it simpler for them to complete the information in a way that best suits them.
Generally, as a field we have moved away from questioning whether we should use mixed mode data collection – to asking how best to design mixed mode surveys. Going forward, the challenge for mixed modes surveys is how to combine modes to the best advantage and how to address non-response bias and selectivity across different modes. The CLOSER studies provide a wealth of research evidence and expertise in implementing mixed modes and we're continuing to experiment to develop the best possible mixed modes surveys. Follow our progress and join the conversation through the CLOSER network.
Download the 'Mixing modes and measurement methods in longitudinal studies' report