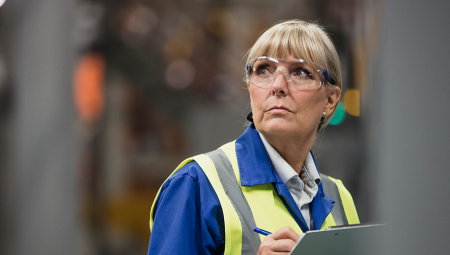 The Health and Employment After Fifty (HEAF) Study was one of 11 new longitudinal studies to join the CLOSER consortium in 2020. In our latest blog, Catherine Linaker (Senior Research Fellow) introduces us to the study and their data while highlighting their COVID response and future aims.
In many countries, increased longevity and declining birth rates have changed the shape of our societies. This is frequently referred to as 'ageing populations'. In response to this growing proportion of older adults, governments have implemented policies to encourage people to remain economically active and have introduced legislative changes aimed at extending working lives (such as abolishing the compulsory age of retirement and raising the age of eligibility for state pension payments). However, it is unclear whether working into older age is actually good or bad for our health, or indeed if it is even feasible for those who experience health problems that are often associated with ageing.
To address these uncertainties, the HEAF study was established in 2013 specifically in order to assess the health benefits and risks (including occupational, social, and personal aspects) of working at older ages, and to understand the extent to which common health problems limit work capability at older ages. Understanding the health impact of government strategies will help to inform future public health strategy and policy-making with an increasingly ageing workforce in mind.
The HEAF study participants and data collection
During 2013-14, over 8,000 men and women aged between 50-64 years were recruited from 24 general practices across England. People were eligible for enrolment regardless of their employment status (e.g., retired, unemployed, self-employed, employed, volunteering, or caring for someone). Since this time, we have collected an extensive range of detailed information by annual postal questionnaire: demographic characteristics; work status; job characteristics; social and financial circumstances; retirement plans; leisure and social activities; and mental and physical health. Each questionnaire comprises a core set of questions with additional material that focuses on a particular topic to allow more detailed analysis. So far, additional topics have included dietary assessment; the menopause; and unpaid caring responsibilities.
Unpaid caring and reasons for retirement
An ageing population inevitably increases the demand for informal care, with such caregiving tending to be unpaid and provided by a family member. This may be a burden, restricting an individual's ability to work and also affecting their health. Another important part of the HEAF study is the inclusion of a qualitative component – telephone interviews of a small group of participants have been conducted to find out more about work-related factors that influenced their decision to retire.
Objective health data
A particularly valuable feature of the HEAF study design is that participating general practices contributed anonymised patient data to the Clinical Practice Research Datalink (CPRD). With participants' consent, this has allowed us to access objective health information including primary care medical records; doctor-recorded diagnosis and referrals; and treatments.
HEAF has now completed its sixth year of annual data collection, with over 80% of our loyal participants still enrolled in the study as of 2021. We are enormously grateful to our dedicated cohort for making the study such a success by continuing to contribute each year to the ever increasing wealth of data. Although this has largely taken the form of a postal survey, we have attempted to foster a sense of community by regularly keeping in touch with participants; sending an annual newsletter to inform them of our study progress and sharing our plans for the coming year. We have also set up a dedicated HEAF website via which participants have contributed photos of themselves going about their daily lives.
HEAF and COVID-19
At the end of 2019, plans were afoot to introduce face-to face data collection in HEAF. To this end, we secured ethical approval to conduct a pilot study and planned to conduct in-home interviews and a set of physical performance assessments (including measurements of grip strength and walking speed). As has been the case with so many research studies, the COVID-19 pandemic disrupted our planned itineraries and all face-to-face data collection is, for the moment, necessarily on hold.
Despite the pandemic, the HEAF research team and participants swiftly got to grips with various online platforms in order to continue our data collection. We turned our attention to designing an online survey to investigate HEAF participants' experiences of the COVID-19 pandemic – keep an eye out for part two of this blog which will explore our COVID-19 work in more detail.
Study highlights and future plans
A focus of the HEAF study since inception has been the concept of health-related job loss. The baseline data indicated that 30% of participants had stopped working, one third of whom reported that they had left work on health grounds. Such health-related job loss was most commonly attributed to musculoskeletal disorders, but mental health conditions, or indeed a combination of the two, were also frequently cited. Other areas in which we have published results include frailty; sleep; job dissatisfaction; and obesity.
The HEAF study has proved itself to be adaptable to many areas of work and health research. Our wider study questions are still of relevance in the post-pandemic world and we will continue to send annual follow-ups to explore these areas of interest, while also utilising more focused data collections to drill down into more specialised topics.
Further information
This is the first part of a mini blog series by CLOSER partner study, Health and Employment After Fifty Study introducing the cohort and their COVID-19 response. 
---
Catherine Linaker is a Senior Research Fellow at the MRC Lifecourse Epidemiology Centre, University of Southampton. Follow the MRC LEC on Twitter: @MRC_LEU
Suggested citation:
Linaker, C. (2021). 'Part 1: New to CLOSER – introducing the Health and Employment After Fifty (HEAF) Study'. CLOSER. 13 October 2021. Available at: https://www.closer.ac.uk/news-opinion/blog/introducing-heaf/