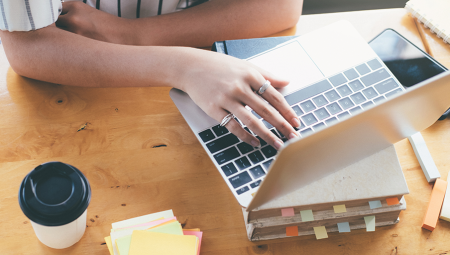 Matan-Elle Cohen completed a three-month internship with CLOSER's Training and Capacity Building team in the summer of 2022. Here, Matan-Elle reflects on her time with the team and introduction to longitudinal population study research.  
I knew I wanted to get into an internship from my first undergraduate year at UCL – where I come from in Italy internships aren't that common, and the thought of getting some hands-on experience really excited me.  
Finding CLOSER
I found CLOSER during my second year, and I knew it was a perfect match. I'd had a lot of experience with experimental research thanks to my courses during the year, and I was ready to try something new. CLOSER appealed to me due to its focus on longitudinal research, an area I had previously only touched on, and was eager to explore further. Longitudinal research refers to observational research that follows people repeatedly over a period of time, often from birth to death. CLOSER has a leading role in this kind of research, as it is the interdisciplinary partnership of leading social and biomedical longitudinal population studies, the UK Data Service and The British Library.
It became clear to me that CLOSER's work was incredibly important, as it ensures that longitudinal evidence is used to address the health, social, economic and environmental challenges, now and in the future. I felt the need to know more about this type of research, as it provides data that extends over a single moment in time and produces results that are more applicable to naturalistic settings compared to experimental research.  
I began my three-month placement in CLOSER in early July 2022, and my experiences with the team have been overall remarkably positive. On my first day I was warmly welcomed, and had the chance to bond with everyone, both at the office and after working hours. For the first few weeks of my internship, I had the opportunity to meet team members through one-on-one meetings, which allowed me to get more insight into the organisational structure of CLOSER and understand how I fit in it.
The focus of my role has been supporting CLOSER's training and capacity building provision in several ways, including creating new content for the Learning Hub and developing the Training Hub by collating resources for researchers using longitudinal population studies. CLOSER allows me to work on my tasks both online from home and in-person at the office – I truly appreciate this, as I believe it ensures productivity within the team.  
Developing CLOSER's training and capacity building resources
The first task I was assigned was to produce a new research case study for the Learning Hub. As a first step, I had to select a list of potential external resources that looked at one or more of CLOSER's studies. I was given complete freedom when choosing an area of research for the case study, which made my work even more stimulating and fun. With the help of my supervisor Dr Neil Kaye, I narrowed down my search, and chose to write about sexual orientation and health inequality. This topic appealed to me due to its relevance to the younger generation of students, who might want to inform themselves on such topics during their academic career. The process of writing the research case study built on my previous experience when writing lab reports and helped me to further develop my ability to write concisely and synthesise information. I had the support of my supervisor in every step of the way, which allowed for smooth progress.  
More recently, I was assigned to finding resources that could be added onto the Training Hub. To do this, I have been focusing on finding guidance, resources and training opportunities for researchers available on the CLOSER website and elsewhere. This task has been especially enlightening, as during my search I have had the opportunity to read a large variety of papers and informative resources on intriguing topics, including the link between childhood adversity and adult wellbeing as well as that between cognitive ability, social background and education. Working on the Training Hub has improved my analytical skills, as I am required to analyse large amounts of data and categorise it according to type of research and relevance. Although I have been working at this task for a few weeks now, it is always evolving and engaging, as I discover new sources and new topics every day – I am looking forward to seeing the end product with the launch of the new Training Hub next year. 
Reflecting on my time with CLOSER
Overall, working as an intern for CLOSER has been an incredible experience. Neil has been a great supervisor, leading me through every step of the way, and the rest of the team has been just as supportive. Not only have I had the opportunity to deepen my knowledge on longitudinal population studies, but I have also understood how important they are for future generations, and how useful they can be for students and academics when doing their research. I would recommend the internship at CLOSER to anyone, as this experience has given me a great insight on the professional world, as well as helped me gain new skills that will prove extremely useful in my future career. 
Further information
---
Matan-Elle Cohen is in her final year at University College London studying BSc Psychology. Connect with Matan-Elle on LinkedIn. 
Suggested citation: 
Cohen, ME. (2022). 'Developing training resources for researchers – reflections on my CLOSER internship '. CLOSER. 7 November 2022. Available at: https://closer.ac.uk/news-opinion/blog/developing-training-resources-for-researchers-reflections-on-my-closer-internship/