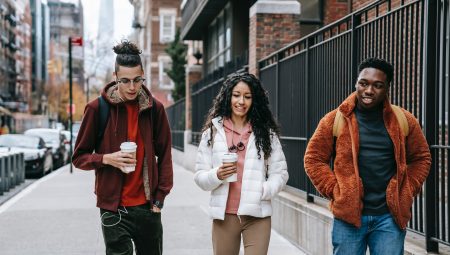 The Office for National Statistics Longitudinal Study (ONS LS) is one of 11 new studies that joined CLOSER in September 2020. Here, Jo Tomlinson introduces us to the study, what they do and forthcoming plans for 2021.
What is the ONS LS?
The study is a sample taken from the 1971, '81, '91, 2001 and '11 Censuses of people living in England and Wales who were born on one of four birth dates, i.e. 4 out of 365 days of the year, so it makes up about 1% of the total population. It contains linked registrations of life events including deaths, immigrations, emigrations and cancer registrations. Members enter the study through birth and immigration and leave through emigration or death, but leavers' data is retained. Census information is included for all people living in the same household as the study member, although household members are not followed up from census to census. The study now includes records for over 1,100,000 individuals, making it the largest nationally representative longitudinal dataset in the UK. The inclusion of 2021 Census data will give us 50 years of the ONS LS, which will be a cause for much celebration.
The study is owned by and stored at ONS and, to protect confidentiality, its data can only be accessed via an ONS 'safe setting' after gaining their approval to conduct the research. CeLSIUS (the Centre for Longitudinal Study Information and User Support) is funded by the ESRC to help researchers to access and use the study. 
What does CeLSIUS do?
CeLSIUS is a 'research support unit' based at UCL. We are currently funded until 2025 to provide free guidance to academic, voluntary and public sector users of the ONS LS. We're there to:
answer detailed enquiries about the LS and help researchers develop applications to use the data;
support projects that have gained approval e.g. by editing syntax sent by users, or by extracting datasets and deriving variables;
advise on and clear research outputs for disclosure control (methods which minimise the risk of disclosive information about individuals in the study, to safeguard their confidentiality).
We support 75 – 80 ongoing projects at any given time and they may take several months – or occasionally years – to be completed and deliver final research outcomes (i.e. presentations, journal articles, etc).
We also promote the ONS LS within the social science and policy community.
What we've been doing lately
We liaise with the Northern Ireland LS (NILS) and the Scottish LS (SLS) support units under the 'UKCenLS' banner to make UK-wide census research possible. Our joint innovations have included the Calls-Hub website, a one-stop shop for resources relating to the three LSs, including a harmonised data dictionary and a research outputs database; eDatashield, a technical resource for modelling with comparable data from all three LSs; and SYLLS, techniques to produce synthetic data akin to the real data preserving the relationships between variables and transitions of individuals over time.
We have worked to facilitate greater use of the study from the public sector community beyond academia. This has led to, for example, ONS LS data being used by Pascale Bourquin and others at the Institute for Fiscal Studies to report on 'Inheritances and inequality within generations'; and Dr Dafni Papoutsaki and others of the Institute for Employment Studies to produce a report for the Social Mobility Commission on 'Moving out to move on: Understanding the link between migration, disadvantage and social mobility'. The study was also used by Dr Katharina Hecht and others at LSE to report on 'Elites in the UK: Pulling away?' for the Sutton Trust.
LS research attracts noteworthy media coverage, such as "Persistent racism still mars job prospects for BAME Britons", a finding of Dr Saffron Karlsen and others' project on 'Being a Muslim in Europe'. Their paper has now been shortlisted for the Sociology 2021 SAGE Prize for Innovation and Excellence.
What next for CeLSIUS and the ONS LS?
The ONS LS being 50 years old in 2021 and the forthcoming new LS data (expected to become available in 2023) presents a major opportunity to highlight the work of the study and to raise the profile of the Census and its uses. We are working with LS users to develop blogs, newspaper articles and podcasts, supported by a social media campaign. We will highlight predominant themes of LS research, such as health, growing older, migration, social mobility and inequality and ethnicity, to celebrate '50 Years of Social Change'.
Our UKCenLS collaboration will include an online conference this summer, hosted by the Scottish LS support unit, along with training and communications, including impact case studies, blogs and webinars. Next year, CeLSIUS will be hosting the conference, hopefully at Cardiff Castle, where we will focus on Welsh data in the ONS LS.
We will soon also be adding metadata about the ONS LS to CLOSER Discovery.
We have been fortunate that we have been able to offer remote support for ONS LS projects throughout the COVID-19 pandemic, by running code for users or by enabling them to use the ONS safe setting through an Assured Organisation Connectivity (AOC) agreement with ONS. We will actively promote any new research which focuses on the impacts of COVID19 – the 2021 Census data will provide opportunities for fascinating comparisons such as health, migration and travel-to-work trends in 2011 compared with 2021.
LS research will form part of the ONS media campaign for the 2021 Census – keep a look out for this! We shall continue to work with ONS on planning for beyond the 2021 Census and provide evidence for policy across a wide range of areas – there is much work to be done and many exciting opportunities in the future.
If you'd like to know more please contact us celsius@ucl.ac.uk, follow us on Twitter @celsiusnews and have a look at our website.
Further information
This blog post is part of a series where CLOSER introduces the new studies that have recently joined the consortium as part of its expansion. Access the full series
---
Jo Tomlinson is Administrative Officer at CeLSIUS based at University College London. 
Suggested citation:
Tomlinson, J. (2021). '50 years of linking our lives'. CLOSER. 16 March 2021. Available at: https://www.closer.ac.uk/news-opinion/blog/50-years-of-linking-our-lives/