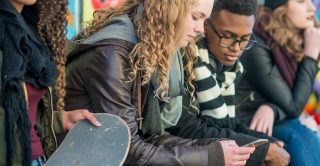 Selected highlights of journal papers and other research published in March 2018 using data from CLOSER's eight longitudinal and cohort studies.
Mental health risks to girls who spend more than an hour a day on social media
Data from five waves of Understanding Society has been used in a new study examining whether increases in social media usage, between the ages of 10 and 15, is linked to adolescents' wellbeing. Published in BMC Public Health, the researchers assessed self-reported social media interactions, looking particularly at how frequently participants chatted with friends on social websites each day. The team, led by Dr Cara L Booker, of the University of Essex, found that those who reported high levels of social media use in early adolescence were more likely to have lower wellbeing in later adolescence, particularly girls. This research was covered by a number of news outlets including The Conversation and The Huffington Post. Read more.
Girls living in socially disadvantaged communities at risk of joining gangs
New research, published in Crime & Delinquency, has used data from the Avon Longitudinal Study of Parents and Children (ALSPAC) to explore risk factors for girls in the UK who join gangs. The research team, led by Prof Zenta E. Gomez, of Stetson University, USA, looked at a variety of risk factors, such as the individuals' race, relationships, and neighbourhood, to examine what differentiates girls who join gangs and girls who don't. They found that 48 per cent of Read more.
Adolescents who experience psychosis and depression less likely to succeed at school
Data from ALSPAC has been used in a new study, published in Social Psychiatry and Psychiatric Epidemiology, to examine how those who have psychosis and depression during adolescence are faring at age 16 and 20. Led by Dr Johnathan Davies, of the University of Bristol, the team found that those who had psychotic experiences and depression at age 12 were more likely to have poorer educational, occupational and social outcomes at 16 and 20.  Substance use and illegal behaviour were also connected with psychotic experiences and depression at age 18. The study highlights the importance of recognising poor adolescent mental health in order to provide support for those at risk later in their youth. Read more.
Workers from lower socioeconomic backgrounds more likely to retire due to health reasons
Cross-national research using data from seven studies, including the British Household Panel Study and the MRC National Survey of Health and Development, has examined how and when people from different socioeconomic backgrounds exit the labour market. The study, published in Occupational & Environmental Medicine, looked at differences in education and job level to see if these factors were linked to why participants left their jobs. The team, led by Dr Ewan Carr, of University College London, found that workers with a low level of education and lower grade jobs had an increased risk of leaving employment due to health reasons. Read more.
Informal male caregivers more likely to have high cholesterol, new study suggests
New research has used data from Understanding Society to explore the relationship between informal caregiving and metabolic biomarkers, including blood pressure and cholesterol levels. Informal caregiving refers to the unpaid help a family member or friend may provide for an individual living with a chronic or disabling condition. The research team, led by Rebecca Lacey, of University College London, used information from participants aged 16 or above. The team showed that men who were informal caregivers recorded higher levels of cholesterol than men who were non-caregivers. Read more.
Higher family income is associated with fewer child behavioural problems
Research using the Millennium Cohort Study (MCS) has investigated the relationship between family income and maternal psychological distress and children's mental health and behaviour at age 11. The study, published in SSM- Population Health, was carried out by researchers based at the University of Oxford. They found that, on average, lower family income and maternal psychological distress is associated with greater child behavioural problems. Read more.
Maternal education and risk of obesity at age 7
Research published in Pediatric Obesity has looked at the link between maternal education and levels of overweight and obesity in 7-year-olds. The paper, from researchers based at Edge Hill University, used data from the MCS age 7 survey. The researchers found that the children of less educated mothers were at greatest risk of being overweight and obese. The researchers also looked at the associations between living in a deprived neighbourhood and childhood obesity. Although they found that children living in the most deprived neighbourhoods tended to exercise more regularly than their more advantaged peers, they were still more likely to be overweight or obese. Read more.
Are there more same-sex than opposite-sex twins?
A new paper published in Human Reproduction, has compared the rates of same-sex (SS) vs opposite sex (OS) twins in the UK and US. The researchers, based at the London School of Economics and California State University, analysed data from the National Child Development Study (NCDS) and data from the National Longitudinal Study of Adolescent Health in the USA.  Although previous literature has suggested that there should be an equal amount of SS and OS twins, the research team found that there are significantly more SS than OS pairs among twins in both the UK and the USA. This suggests that there may be a genetic advantage for the survival of SS twins. Read more
The relationship between childhood obesity and adult household income
A new paper published by Preventative Medicine has examined the relationship between adolescent obesity and future household income, employment, and marriage. The paper, authored by researchers based at two Australian institutions, Monash University and Deakin University, looked at data from NCDS, from the birth sweep to age 50. The study found that obesity in adolescence is linked with lower likelihood of marriage and lower household income. These findings had a particularly strong association for obese adolescent girls, who were most likely to have lower household incomes across adulthood. Read more.