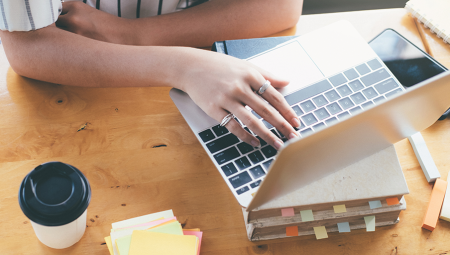 Charis Bridger Staatz completed a three-month internship with CLOSER's policy and research teams in early 2021. Here, Charis reflects on her time with the CLOSER team and how the experience will help with her future endeavours.
I'd always known I wanted to do an internship during my PhD. It seemed like the perfect opportunity for me to apply my academic knowledge in a new working environment, while learning new skills to help in my own research. When I started searching for opportunities in my final year, I knew I wanted to find a placement that would allow me to experience first-hand the intersection of academia, with policy and the wider public.
My PhD research investigates socioeconomic inequalities in body composition (i.e fat mass and lean mass), with a focus on the interplay between individual-level characteristics, such as psychological factors, and the surrounding environment. More broadly, I'm interested in how these patterns and inequalities develop and change over the life course, and how they differ between generations. Longitudinal studies gather a great deal of information on these topics at multiple ages across peoples lives so I've made sure the British Birth Cohorts are at the heart of my PhD thesis.
CLOSER, the home of longitudinal research, therefore seemed like a natural fit for me in my search for the perfect internship. Bringing together 19 world-leading longitudinal population studies, CLOSER aims to maximise their use, value and impact in the UK and abroad. They also work to improve the discoverability of longitudinal data with their flagship resource, CLOSER Discovery which allows you to search and explore the information available in these studies. And then there's the CLOSER Learning Hub, an online educational resource designed to help students and early career researchers learn more about longitudinal research. CLOSER recently launched a truly great series of introductory videos on longitudinal studies – I've recommended these to so many of my PhD colleagues who were unfamiliar with the world of longitudinal research, but I think even those already up to speed will find them an enjoyable and useful watch!
Joining the CLOSER team
I began my placement with CLOSER in early January of 2021. Starting a three-month internship in the midst of a global pandemic and the peak of the UK's third wave was always going to have its challenges. However, my experience of working with CLOSER was overwhelmingly positive.
I was quickly introduced to everyone at one of their monthly all-team meetings and got to know them better during the bi-weekly informal coffee catch-ups – think lots of natter about lockdown activities and debates over the best walking routes through London!
The focus of my work was split between policy engagement and using longitudinal research to investigate the impacts of the pandemic. I had regular catch ups with my mentors, Rob Davies and Dara O'Neill to ensure I had clear aims throughout my internship and to provide guidance when needed. These were all nice touches that meant I felt connected in a time of limited social contact. In fact, working with CLOSER during the COVID-19 pandemic provided me with no short list of things to do, and formed the basis of my internship.
Policy engagement
Rob Davies, CLOSER's Public Affairs and Policy Impact Lead and Head of the CLOSER COVID-19 Taskforce, was quick to signpost me to talks and events. He introduced me to Parliament TV, where I spent a lot of time (virtually) watching debates in the House of Commons, and the Glossary page on UK Parliament, where I could get my head around some of the jargon. My work with Rob involved showcasing how longitudinal research can be used to better understand the pandemic and help shape policy. I utilised the ever-growing CLOSER COVID-19 Research Tracker to map publications to the COVID-19 Areas of Research Interest for the UK Parliament (POST, 2020). As part of this, I narrowed down my focus to the mental health impacts of COVID-19 and produced a briefing note on the topic, which was used by Rob to contribute to a POSTnote on the Mental health impacts of the COVID-19 pandemic on adults.
This was a useful exercise in learning to adapt my style of writing for different audiences – a skill I was able to further refine with other projects, such as writing the 'Rebuilding a Resilient Britain' Policy Alert. These were great worked examples of how to promote longitudinal research using the "wedding cake" approach. This technique is used to present information of differing complexity on the same topic in order to reach multiple target audiences. I even got to produce the "cherry on the top", as I had the chance to dabble in the world of infographics – an easily accessible and effective way to share research to a wide audience.
Investigating the impacts of COVID-19
Working with Dara O'Neill, CLOSER Research Fellow and theme lead for harmonisation at CLOSER, I was involved in a new cross-study collaborative project. This was a collaboration with an on-going national response to the pandemic, the Longitudinal Health & Wellbeing National Core Study (LH&W NCS). Our original aim was to look at how prior physical health, such as body mass index (BMI) can impact the severity of COVID-19. After accessing the data from the MRC 1946 National Survey of Health and Development, the oldest of the British Birth Cohorts, and discovering the number of people who'd had COVID-19 was (thankfully!) very small, it was clear this analysis was not going to be possible.
Working on a collaborative project was an eye-opening experience – as a PhD student I am used to working solo with input from my supervisors, so working on a project with contributors spanning the UK was exciting. I quickly recognised the importance of flexibility and the need for adaptiveness when operating in a research context as dynamic and pressing as the COVID-19 pandemic. To ensure I had the opportunity to carry out some of my own analysis, we reframed my original research question to look at how pre-existing physical health is associated with change in health behaviours during the pandemic. This is something particularly relevant to my own interests in understanding obesity over the life course, and the different social and behavioural factors that are related to weight and weight change.
A key highlight was learning to code in R (a flexible and powerful programming language for statistical computing) – something I have told myself I'd do for the past three years but have never found the time for. For those keen to hear the results of this research, it is still a work in progress so watch this space!
Looking ahead
Both Dara and Rob were great mentors, and I learnt a lot during my placement with CLOSER. The rest of the team were incredibly welcoming and supportive.
I intend to use the skills I gained during the internship and apply them to my own work in future. In particular, I will adapt my style of presentation when communicating my research to different relevant stakeholders.  The work with the NCS outspans the length of my internship, but I intend to stay involved as best as I can and look forward to seeing the outcomes of analyses!
---
Charis Bridger Staatz is a PhD Researcher at University College London. Follow Charis on Twitter: @CharisStaatz
Suggested citation:
Bridger Staatz, C. (2021). 'Working at the intersection of academia and policy: reflections from my CLOSER internship'. CLOSER. 27 July 2021. Available at: https://www.closer.ac.uk/news-opinion/blog/working-at-the-intersection-of-academia-and-policy